Netflix Soars Once Again After Strong Earnings Report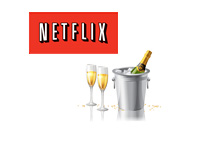 Netflix reported their Q3 earnings earlier today, with the company managing to surpass even the rosiest of expectations. Shares of Netflix traded over 6% higher during the regular session as investors scrambled to pick up shares before the company released its Q3 earnings report - things got even more crazy in after-hours trading, as the stock tacked on an additional 11% of gains.
Analysts were expecting 49 cents per share of earnings from Netflix during Q3, but the company managed to come in at 52 cents per share.
For Q4, the company is predicting earnings of between 47-73 cents per share, ahead of current analyst estimates of 46 cents per share.
--
Netflix revealed that they added nearly 1.3 million new US subscribers during the third quarter.
According to Needham + Co., Netflix likely topped the 30 million paying US customer mark as of September 30th, which would put it ahead of HBO for the very first time. According to Bloomberg.com, HBO likely has about 28.7 million paying US subscribers.
Netflix's decision to develop their own original programming has paid off in spades for the company. Shows such as "House of Cards", "Orange is the New Black" and "Derek" have proven to be big hits for Netflix, and the company has already announced their intentions to sink even more resources into developing new and original shows.
--
Shares of Netflix have soared over the past 12 months, trading from about $60 to its current level of nearly $400.
This is quite the turnaround for Netflix, which was absolutely reeling just two years ago after announcing plans to split their DVD and streaming businesses into two separate companies. Netflix eventually cancelled those plans, with CEO Reed Hastings admitting that the idea was a mistake. Netflix has been able to regain their momentum following that disastrous multi-month stretch, and are currently the toast of the investment world.
Source: Bloomberg.com -
Netflix Poised to Pass HBO in Paid US Subscribers
Filed under:
General Knowledge