148,000 Nonfarm Payroll Jobs Added in September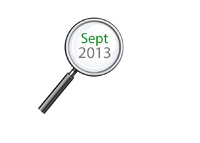 Thanks to the partial government shutdown, the BLS ("Bureau of Labor Statistics") wasn't able to release the September employment numbers on time last month.
Now that the government has re-opened its doors, the data that we all breathlessly wait to read every month can start flowing once again. In addition, the national debate can now temporarily move away from debt ceilings and government shutdowns and back to "tapering".
--
The September numbers didn't do much to roil the markets, as they were pretty much as expected.
The nation added 148,000 nonfarm payroll jobs in September, which was more or less even with expectations. The national unemployment rate ticked lower to 7.2% as well.
The number of employed Americans increased from 144,170,000 to 144,303,000 in September, an increase of 133,000. The civilian noninstitutional population also increased slightly in September, which resulted in the labor force participation rate remaining unchanged.
The number of unemployed dropped slightly to 11,255,000 in September from 11,316,000 the month before, which resulted in the unemployment rate dipping 0.1%. On the other hand, the number of people not in the labor force (neither employed or unemployed) increased by 136,000 to 90,609,000 in September.
--
The BLS revealed that both the July and August nonfarm payroll numbers were adjusted - here were the changes:
July - +104,000 to +89,000
August - +169,000 to +193,000
Source: BLS.gov -
The Employment Situation -- September 2013
Filed under:
General Knowledge