China, Japan Continue To Lead Way With $1 Trillion+ in US Debt Holdings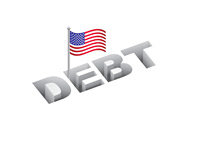 Earlier this week, the Treasury Department released the "Major Foreign Holders of Treasury Securities" report for the month of August.
The main data point that stood out in the report? Foreign holdings of US debt dropped for the fifth consecutive month in August. Now, foreign entities still accounted for nearly $5.6 trillion of US debt holdings in the month of August, but a fifth straight monthly drop in foreign holdings of US debt is certainly enough to raise some eyebrows. After all, the United States is heavily reliant on foreign investors when it comes to funding its massive deficit spending.
The general consensus is that foreign entities were hesitant to add to their debt holdings with the debt ceiling situation looming on the horizon.
--
As per usual, China led the way in August with a total of $1.2681 trillion in US debt holdings, down slightly from the month before.
Despite China pulling back on their purchases in recent months, their holdings of US debt are still up markedly from one year ago. Over the past 12 months, China has added roughly $113 billion in US debt to their portfolio.
Japan has been comfortably entrenched as the second largest foreign holder of US debt for a while now. In August, Japan reported US debt holdings of $1.1491 trillion, up about $14 billion from the month before.
Here were the top five foreign holders of US debt as of August 2013:
China, $1.2681 trillion
Japan, $1.1491 trillion
Carib Banking Centers, $300.5 billion
Brazil, $252.9 billion
Oil Exporters, $246.4 billion
--
It will be interesting to see how the continuing debt ceiling situation impacts the purchase of US debt over the coming months.
Source: Treasury.gov -
Major Foreign Holders of Treasury Securities
Filed under:
General Knowledge