Unemployment Rate Ticks Higher to 7.3% in October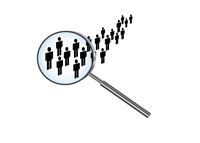 How did the partial government shutdown impact the employment numbers? We received our answer in the October jobs report that was released by the Bureau of Labor Statistics ("BLS") earlier today.
The consensus from analysts and economists was that the US government added a total of 120,000 non-farm payroll jobs in October. Some estimates that I saw had just 75,000 jobs being added in October, largely due to the assumed fallout from the federal government shutdown.
In the end, the United States added 204,000 non-farm payroll jobs in October, which easily bested even the rosiest of estimates.
The national unemployment rate ticked higher in October from 7.2% to 7.3%.
The markets initially sold off after the report was released, but ramped higher throughout the course of the day.
While the non-farm payrolls were higher than expected, there were a number of troubling data points in the report, including:
-civilian labor force dropped by 720,000 people in October
-labor force participation rate dropped 0.4% to 62.8%
-number of employed Americans dropped by 735,000 to 143,568,000
-number of unemployed Americans increased by 17,000 to 11,272,000
-number of people "not in the labor force" (this means, a person who is neither employed or officially unemployed) increased by 932,000
-unemployment rate for teenagers increased 0.8% to 22.2%
-U-6 unemployment rate increased by 0.2% to 13.8%
--
The markets seemed to focus on the non-farm payroll number, which resulted in the DJIA, NASDAQ and S&P 500 all turning in great days.
However, the October jobs report certainly contained a great deal of worrying data points that should, at the very least, give people pause.
Source: BLS.gov -
The Employment Situation, October 2013
Filed under:
General Knowledge