24% of Republican and Republican Leaning Independents Favor Christie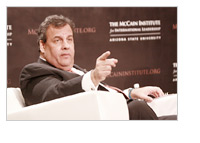 According to a recently released CNN/ORC poll, Chris Christie is the early frontrunner for the 2016 Republican Presidential nomination.
The CNN/ORC poll asked Republican and Republican leaning Independents who they currently favor for the 2016 Republican Presidential nomination, and the results looked like this:
Chris Christie, 24%
Rand Paul, 13%
Paul Ryan, 11%
Marco Rubio, 9%
Rick Perry, 7%
Rick Santorum, 6%
Jeb Bush, 6%
Christie has surged in recent months thanks to a highly successful gubernatorial re-election bid in New Jersey. Christie did surprisingly well with black and younger voters, and this has many people proclaiming that he may be the only Republican candidate capable of defeating Hillary Clinton in 2016, should she decide to run.
Christie ended up with 60.4% of the vote in the NJ Governor's election, besting even the most optimistic of pre-election polls. Christie obviously has tremendous bipartisan appeal, as he was able to easily defeat Democrat Barbara Buono, despite the fact that Democrats outnumber Republicans in the state.
--
Speaking of Hillary Clinton, a whopping 63% of Democrats and Democrat leaning Independents said that they would favor the former First Lady and Secretary of State for the Democratic Presidential nomination, should she decide to run in 2016.
Vice President Biden currently has 12% of the vote, while Elizabeth Warren has 7%.
Source: CNN.com -
Christie Leads Possible 2016 GOP Contenders in CNN/ORC Poll
Photo:
Gage Skidmore
Filed under:
General Knowledge