IMF, Fed, Apple and Facebook Conspire to Drive Markets Higher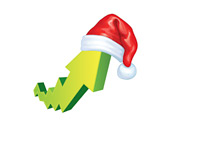 The markets were in a festive mood earlier today as a broad mix of bullish news conspired to drive the major market indexes higher.
The International Monetary Fund revealed on Sunday that they were raising their outlook for the US economy. The IMF had previously predicted that the US economy would grow by 2.6% next year. A new forecast hasn't been released as of yet - the IMF is pointing to a budget deal in Washington and the tapering of the Fed's bond purchases as the main reasons why they are feeling more bullish about the US economy.
Apple traded up nearly 4% after the technology giant inked a long rumored deal with China Mobile. The deal, which will begin on January 17th, will see Apple providing their iPhones to China Mobile's customers, which is currently the world's largest wireless network. Analysts are expecting that the deal will add considerably to Apple's bottom line, which is why shares of the company were up today.
Facebook had a strong day as well, trading up nearly 5% after the company simultaneously entered the S&P 500/S&P 100 and completed a secondary offering. Facebook continues to hit new highs and currently has a valuation of over $140 billion. Facebook has certainly been one of the most compelling stock market stories of 2013, as they have managed to completely erase their negative momentum in just a few short months.
In addition, the markets continued to bask in the glow of the US economy growing by 4.1% (higher than anticipated) during the third quarter. This strong showing in Q3 has resulted in many upping their estimates of US economic growth in 2014.
Filed under:
General Knowledge