Warren Buffett Saw His Net Worth Increase by $1.5 Million Per Hour in 2013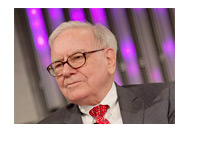 The continued rise in stock prices in 2013 meant that many of the world's richest people, including the likes of Bill Gates, Mark Zuckerberg and Jeff Bezos, became even richer over the course of the year.
According to Wealth-X, nobody's net worth increased more in 2013 than Warren Buffett, who is the Chairman, President and CEO of Berkshire Hathaway. Berkshire Hathaway owns stakes in a number of different publicly traded companies, including the likes of Wells Fargo, American Express and IBM. In addition, Berkshire Hathaway also owns the likes of GEICO, Dairy Queen and NetJets. It stands to reason that when the markets are trending higher and the economy is improving, Berkshire Hathaway (and, by extension, Warren Buffett) will also be doing well.
Over the past 12 months, shares of Berkshire Hathaway have traded from $133,000/share all the way up to a current level of $177,160/share. Warren Buffett, who owns 350,000 shares of Berkshire Hathaway, has seen his net worth soar dramatically over the past year.
According to Wealth-X, Buffett's net worth has increased by $12.7 billion over the past 12 months, giving him a current net worth of roughly $60 billion. This breaks down to a net worth gain of $37 million/day and $1.5 million/hour for the "Oracle of Omaha" - not a bad year at all.
--
Here is the complete list of the top 10 billionaire gainers of 2013:
1.
Warren Buffett
, +$12.7 billion
2.
Bill Gates
, +$11.5 billion
3. Sheldon Adelson, +$11.4 billion
4.
Jeff Bezos
, +$11.3 billion
5.
Mark Zuckerberg
, +$10.5 billion
6. Masayoshi Son, +$10.3 billion
7.
Sergey Brin
, +$9.3 billion
8. Larry Page, +$9.3 billion
9. Lui Chee Woo, +$8.3 billion
10. Carl Icahn, +$7.2 billion
Photo:
Fortune Live Media
Filed under:
General Knowledge