DJIA, S+P 500 Close 2013 At All-Time Highs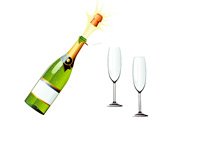 Pop open the champagne - many American households are feeling flush this New Year's Eve thanks to a stock market that just wouldn't quit in 2013.
The Dow Jones industrial Average and S+P 500 both finished 2013 at all-time highs, with the DJIA booking its single biggest yearly gain in 16 years. The S+P 500 posted its biggest single year gain in 18 years, while the Nasdaq turned in its best year since 2009.
Here is how the three major stock market indexes finished 2013:
DJIA - 16,576.66
S+P 500 - 1,848.36
NASDAQ - 4,176.59
Here is how they did on the year:
DJIA, +26.5%
S+P 500, +29.6%
NASDAQ, +38.2%
The NASDAQ now sits within about 1,000 points of its all-time high, a mark that was set during the "glory" days of the "dot-com bubble". Five years ago it seemed almost unimaginable that the NASDAQ would ever come within striking distance of its all-time high ever again, but here we are.
--
Everything went right for the markets in 2013 - good news (strengthening economy, improving consumer confidence, improving housing market) was embraced, while any bad news (geopolitical issues, etc) was shrugged off.
The Federal Reserve has started to taper its bond buying program, and interest rates have increased significantly over the past couple of months, but equities have remained the place to be for the moment.
--
What will 2014 bring for the markets? Will we be toasting another strong year for the markets in 12 months, or will we be pining for the glory days of 2013?
Filed under:
General Market News