Unemployment Rate Drops to 6.6%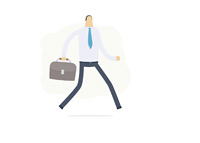 According to the BLS (Bureau of Labor Statistics), a total of 113,000 nonfarm payroll jobs were added in January. In addition, the national unemployment rate ticked lower to 6.6% in January, down from 6.7% the previous month.
The nonfarm payroll numbers came in lower than expected - here is what the brokerages were expecting:
HSBC - 171k
Barclays - 175k
Citigroup - 180k
Bank of America - 185k
Deutsche Bank - 200k
UBS - 200k
Goldman Sachs - 200k
JP Morgan - 205k
Source:
Zerohedge.com
Despite the miss, the markets still soared higher today, with the S&P 500, Dow and NASDAQ all trading up over 1%.
--
Let's break down the numbers a bit to see what happened in January.
To start, the civilian labor force increased from 154,937,000 to 155,460,000 in January, while the civilian noninstitutional population increased from 246,745,000 to 246,915,000. (Civilian Labor Force / Civilian Noninstitutional Population) * 100 leaves us with a labor force participation rate of 63.0%, up 0.2% from the month before.
The number of employed Americans increased from 144,586,000 to 145,224,000, while the number of unemployed Americans (unemployed, that is, according to the government's official definition of "unemployed") dropped from 10,351,000 to 10,236,000. This leaves us with an unemployment rate of 6.6%, down 0.1% from December and down 1.3% from January of 2013.
The number of people "not in the labor force" dropped from 91,808,000 to 91,455,000 in January. Those "not in the labor force" are in the grey area of being neither employed or unemployed (again, according to the government's official definition of both terms).
The unemployment rate for adult men 20 years and over dropped from 6.7% to 6.6% in January, while the unemployment rate for adult women dropped from 6.3% to 6.2%.
The U-6 unemployment rate, which is an alternative measure of labor underutilization in the United States, dropped from 13.1% to 12.7% in January.
--
Source:
BLS.gov
Filed under:
General Knowledge