Two of 2013's Biggest Winners Continue To Trade Higher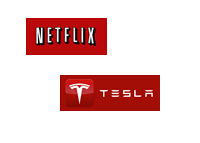 Netflix and Tesla Motors were two of the stock market's biggest winners last year - shares of Netflix started the year at $95.21 and finished at $368.17, while shares of Tesla Motors started 2013 at $35.00 and finished at $150.43.
There was some thought that Netflix and Tesla Motors would be in for an inevitable swoon in 2014, but that hasn't been the case through the first six weeks of the year. Shares of Netflix closed today at $430.44 per share as the company continues to bask in the glow of yet another strong earnings report. Shares of Tesla Motors, on the other hand, closed today at $196.56 and hit an all-time high.
--
There was some hesitation heading into Netflix's most recent earnings report, as a number of analysts figured that the company would report lower than expected earnings due to higher than expected expenses. The cost of producing all of their original content, they said, would cut into their bottom line.
They didn't turn out to be the case, however, as Netflix ended up easily beating earnings expectations. The company added over 4 million customers in the fourth quarter, bringing their worldwide subscriber total to 44.4 million people.
Investors cheered the earnings report, sending shares of Netflix up about 50 points per share.
--
Tesla Motors, on the other hand, will be reporting their quarterly earnings later in the month.
With a stock that has been performing as well as Tesla Motors has, investors generally tend to ratchet up their expectations when it comes time to report earnings. Can Tesla Motors top these elevated expectations when the company reports their earnings next week? That's the big question. Many people say that the company's valuation ($24 billion) is way too rich right now, which means that the slightest of stumbles could send the stock crashing lower.
--
The short position in Tesla Motors has slightly increased to 31.65 million shares over the previous month, while Netflix's short position has also increased (5.28 million shares to 5.56 million shares).
Will these short sellers see their patience pay off, or are they destined to get run over by the Tesla and Netflix bulldozers?
Filed under:
General Market News