Election Bounce Has Long Since Evaporated For Obama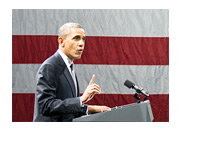 According to Gallup.com, President Obama's national approval rating currently sits at 42%.
During President Obama's successful re-election bid, his approval rating increased all the way from the high 30s to 58%. Predictably, Obama's approval rating has fallen since winning a second term as the harsh realities of the current state of the country have sunk back in.
In addition to the usual problems (continued high unemployment rate, increasing national debt load, etc), President Obama and his administration have been beset by a number of new problems. The Obamacare fiasco. The Edward Snowden revelations. The criticism over Obama's foreign policy. The government shutdown.
There has not been much in the way of good news for President Obama during his second term in office. Sure, the national unemployment rate is falling but it is still unusually high. Sure, the country is posting smaller deficits than it was when Obama took office, but the country is still racking up new debt at an alarming pace.
--
The 2016 Presidential election is roughly 32 months away, which means that we aren't that far out from things really starting to ramp up.
At one time, President Obama would have been a powerful weapon for any Democratic nominee who was looking to make some headway. Now, with President Obama sporting an approval rating in the low 40s? Maybe not so much.
Source:
Gallup.com
Filed under:
General Knowledge