Minimum Wage To Be Increased to £6.50/Hour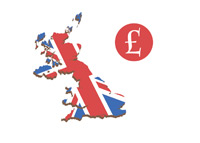 The United Kingdom will be raising its minimum wage to £6.50/hour in October according to Business Secretary Vince Cable.
The move comes after the Low Pay Commission recommended an increase of the minimum wage by 3%, which is slightly above the current rate of inflation (1.9%). This would be the first time since 2008 that the minimum wage has been increased more than the current rate of inflation.
The United Kingdom has different minimum wages for different groups of people - here is the breakdown of what the minimum wage will be for each group as of October:
General population - £6.50
18-20 year-olds - £5.13
16-17 year-olds - £3.79
Apprentices - £2.73
--
A number of prominent union heads in the United Kingdom have panned the increase, calling it insufficient.
The "living wage" in the United Kingdom is currently £7.65/hour, while in London it jumps up to £8.80/hour. A "living wage" is a wage that is sufficient enough to sustain a "normal" standard of living.
Many people were dissatisfied with today's news and say that the minimum wage should be increased to at least £7.65/hour, which would equal the current living wage in the country.
Having said that, the Low Pay Commission believes that the minimum wage will continue to rise faster than the rate of inflation, assuming that the UK economy continues to improve.
--
£6.50/hour works out to $10.79/hour USD, which is significantly higher than the $7.25/hour federal minimum wage in the United States. The minimum wage in the United States was last increased on July 24th, 2009.
Source: UK.Reuters.com -
UK to see more above-inflation rises in minimum wage, says low pay body
Filed under:
General Knowledge