MLB Teams Spending Big, Making More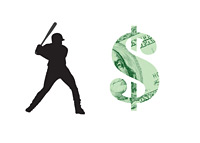 Spring has arrived, which means that Major League Baseball (MLB) is set to swing back into action.
Normally I stick to writing about the stock market and economics in general on this site, but the two new deals recently signed by Detroit's Miguel Cabrera and the Angels' Mike Trout bear mentioning, not only due to their size (they are monster deals) but also due to their significance as it relates to Major League Baseball's business in general.
Let's start with Miguel Cabrera's deal. Cabrera, the 30 year-old (soon to be 31) first baseman of the Detroit Tigers, currently has two years left on his deal that will pay him out an average of $22 million/year. Earlier this week, the Tigers and Cabrera agreed to an 8 year/$248 million extension that will kick in after the current deal expires. In addition, Cabrera could earn himself another two years at $30 million per year, depending on how he performs over the course of his extension.
So, this single deal for Cabrera would end up being worth $308 million over 10 years.
Now, on to Mike Trout's deal. Trout is a 22-year old outfielder who plays for the Los Angeles Angels of Anaheim. Trout has gotten off to an incredible start in his career, hitting an average of .314 and belting a total of 62 home runs and 196 RBIs over his two years with the big club. In addition, Trout has also stolen a total of 86 bases over that time.
Trout, despite being just 22 years of age, was rewarded with a six-year, $144.5 million contract extension earlier this week. Trout will receive $1 million in 2014 and then his new contract will kick in next year.
--
There is no denying that Cabrera and Trout are probably the two best players in all of Major League Baseball. If you were going to start a team, you would almost certainly pick one of these two men to build your team around. Miguel Cabrera is a 2x MVP and World Series Champion, while Mike Trout is easily the best player to come around in the last decade. There is no denying that these two players deserve to be at the top of the pay scale in Major League Baseball.
However, is any player really worth that much money? Surely the Tigers and Angels are going to suffer financially by paying out these deals?
In order to understand these two deals, you also need to understand the TREMENDOUS amount of money that Major League Baseball franchises are making right now.
Major League Baseball did an estimated $7.5 billion in revenues in 2012, $8-$8.5 billion in revenues in 2013 and are projected to do $8.5-$9.0 billion in revenues this season.
Over the past 14 years, MLB revenues have increased from $1.5 billion/year (about $2.3 billion adjusted for inflation) to a current level of nearly $9 billion. Attendance and merchandise sales are both up, but the main reason behind this explosion in revenues has been television.
Major League Baseball recently re-upped their national TV deals with FOX, ESPN and TBS, and the league will collect upwards of a billion per year from these three deals.
The real boost, however, has come from regional TV deals.
Seattle, for instance, signed a deal with RSN ROOT Sports Northwest that will see them receive $2 billion over the course of the 17 year deal. Is it a surprise that they decided to dole out $240 million for the services of Robinson Cano this offseason?
The Los Angeles Dodgers, as well, also have a lucrative deal, as they are set to receive a reported $8.35-$8.8 billion over the course of their 25 year deal. Is it any surprise that their payroll is going to be well over $200 million this year?
Major League Baseball employs revenue sharing, which means that all of the league's teams, small market or not, have seen their revenues soar over the past couple of decades.
--
When people say things like "no player is worth that much money", they are forgetting that the teams that are absolutely drowning in money right now.
If you are a team like Seattle, signing Robinson Cano and paying him $24 million/year isn't such a bad deal when you are set to start collecting over $117 million/year from your new TV deal. In addition, the teams will sell more tickets, more beers, more hot dogs and more merchandise as a result of Cano's signing. On top of all of that, the team surely has an eye towards the long-term, as they will want to maximize the number of people who watch their games on RSN ROOT Sports Northwest so that their next deal will be even more valuable.
--
According to Forbes
, the average MLB franchise value is over $800 million as of this season. A total of 5 teams (including the Yankees, Dodgers, Red Sox, Cubs and Giants) are valued at a minimum of $1 billion, with the Yankees clocking in at a value of $2.5 billion.
Revenues and franchise values are soaring, so the next time you wonder why a team is shelling out $20-$30 million for one player, you'll already have your answer. Teams are spending money, but they are making much more.
Filed under:
General Knowledge