The Obamas Incurred a Federal Tax Bill of $98,169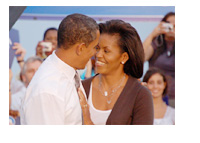 If you are interested in such things, President Obama published his 2013 federal income tax return on Whitehouse.gov earlier today.
The Obamas, who jointly filed, reported total income of $503,183 and an adjusted gross income of $481,098 in 2013. Their total federal tax bill was $98,169, while their state income tax (Illinois) bill was $23,328.
Here is a breakdown of the Obamas' income for 2013:
Salary - $394,796
Taxable Interest - $6,575
Ordinary Dividends - $3
Business Income - $104,809
Capital Loss - ($3,000)
This resulted in a total income of $503,183. From this total, $1,404 was deducted for the deductible part of the self-employment tax, while $20,681 was deducted for self-employed SEP, SIMPLE and qualified plans.
The Obamas paid a total of $117,277 towards their federal tax obligations in 2013 and they elected to roll over the $19,108 refund to their 2014 taxes.
The Obamas contributed $59,251 to charities in 2013, with the Fisher House Foundation ($8,751) getting the largest contribution. Sidwell Friends School, CARE and One Fund Boston were some of the other charities that received donations from the Obamas in 2013.
--
As of May 14th, 2013, the Obamas had a net worth of somewhere between $852,013 and $6,380,999 (this doesn't include the value of a primary residence). Their biggest single asset was in the form of US Treasury Notes (valued between $1,000,001 and $5,000,000), while their only liability was a mortgage on their Illinois residence of between $500,001 and $1,000,000.
Source: Whitehouse.gov -
President Obama and Vice President Biden's 2013 Tax Returns
Filed under:
General Knowledge