Downwards Revision Is Largest On Record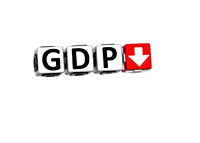 The Bureau of Economic Analysis of the US Department of Commerce released some shocking news earlier this morning - real gross domestic product decreased by a startling 2.9% in the first quarter of 2014, much lower than the previous estimate of a 1.0% decline.
According to the Commerce Department, the difference between the second (-1.0%) and third (-2.9%) estimates were the largest on record since the Commerce Department started tracking this data back in 1976.
The estimates for Q1/2014 ended up being quite wild:
Advance Estimate, +0.1%
Second Estimate, -1.0%
Third Estimate, -2.9%
Economists had been expecting another downwards revision but only to about -1.7%. It's safe to say that practically everybody was blown away by such a large revision down to -2.9%.
The very weak quarter in Q1/2014 has been largely blamed on an unusually cold winter, though such a large change from the advance estimate to the third estimate should have people scratching their heads.
Here is what the Commerce Department had to say about the decrease in real GDP:
"The decrease in real GDP in the first quarter primarily reflected negative contributions from private inventory investment, exports, state and local government spending, nonresidential fixed investment, and residential fixed investment that were partly offset by a positive contribution from PCE. Imports, which are a subtraction in the calculation of GDP, increased."
Real personal consumption expenditures increased 1.0% in Q1/2014, down from an increase of 3.3% in the previous quarter.
-
The country's second estimate for Q1/2014 growth resulted in a number of different entities, including the International Monetary Fund, cutting their growth outlook for the United States for 2014. Will they cut further after today's data from the Commerce Department?
Many economists are forecasting a sharp bounceback in economic growth throughout the rest of the year.
Source:
Q1/2014 GDP Third Estimate
Filed under:
General Knowledge