President Obama Remains Stuck in Low 40s As He Nears Halfway Mark of Second Term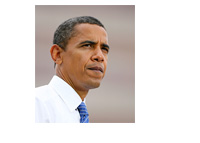 It's safe to say that President Obama's second term hasn't gone very well for him. It seems as though there is a new scandal every couple of weeks, plus President Obama seems to be getting attacked from many different angles on the current situations in Iraq and the Ukraine.
According to Gallup.com, President Obama currently has a 43% approval rating, while 51% of the American public disapprove of the job that he is doing.
Gallup.com says that President Obama possesses a higher approval rating than George W. Bush did at the midway mark of their second terms, but that isn't saying much as Bush was incredibly unpopular during a large portion of his second term in office:
-
Regardless of how many different scandals the Obama Adminstration has to deal with, President Obama's job approval rating rarely slips under 40%. Sure, Obama may be unpopular with more than half of the US public, but his steadfast supporters remain with him no matter what.
-
When he first took office in January of 2009, Barack Obama's approval rating was nearly 70%. This is normal as the US public generally has a sense of optimism about an incoming President.
Over the next three years, President Obama's approval rating would continue to erode, thanks, in large part, to a sluggish economic recovery. Things bottomed out for Obama in the fall of 2011 when his approval rating hit just 38%.
In the run-up to the 2012 Presidential election, President Obama's approval rating steadily improved, topping out at 58% in December of 2012. The scandals struck the Obama Adminstration in waves following his re-election and he has never really recovered.
-
Now, as the midterm elections and 2016 Presidential election loom on the horizon, President Obama runs the risk of being marginalized by his own party. Based on interviews that have been conducted over the past month, likely Presidential candidate Hillary Clinton will be doing her best to distance herself from President Obama and his policies as we get closer to 2016.
Source:
Gallup.com
Filed under:
General Knowledge