Shares of Herbalife Up Roughly 50% Since December of 2012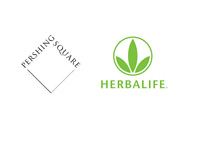 The Herbalife story has been one of the most interesting sagas of the past couple of years in the stock market.
On one side are short sellers (led by Bill Ackman and Pershing Square Capital) who believe that the company is "fraudulent", a
"pyramid scheme" and a "criminal enterprise".
On the other side are big (Carl Icahn and formerly Daniel Loeb/Third Point LLC) and small investors who believe that the company is just fine and is worthy of their capital.
Some of the public battles between Ackman and other investors (namely, Carl Icahn) have gotten particularly nasty - not a surprise given the money and reputations that are on the line.
Bill Ackman first went public with his reported $1 billion short in Herbalife in December of 2012. Since that time, shares of Herbalife are up roughly 50%, much to the delight of Carl Icahn (who has, in his words, not sold a single share of the company) and the rest of the shareholders of the company.
Herbalife has suffered some dramatic drops over the past couple of years but has always been able to bounce back. This past week was no different, as Ackman promised to deliver a report that would clearly show fraudulent activity at Herbalife's nutritional clubs. Pershing had spent a reported $50 million on the multi-year investigation, so surely they would be able to produce the final nail in the Herbalife coffin.
Shares of Herbalife tumbled earlier in the week in anticipation of Ackman's report being released. The day that Ackman made the findings of his report, however, ended up producing one of the biggest one day gains in the history of the company, as shares of Herbalife ended the day up over 25%.
Nail in the coffin, indeed. Herbalife proved to be Teflon once again as Ackman's accusations slid off their backs like a pat of melting butter.
-
So, what is next in this saga?
Well, the company is set to report earnings later this week and investors will obviously be keenly focused on the report, especially given the events of the past week.
In addition, there has been some talk of a Herbalife lawsuit against Bill Ackman and Pershing Square Capital. However, many people believe that this is precisely what Ackman wants, as it would allow him to probe the company even more deeply. For that reason, a lawsuit is not expected.
-
It's often said that human beings become much more attached to positions once they are verbalized.
It's hard to imagine Ackman throwing in the towel on his Herbalife short position anytime soon, even if the stock continues to move against him.
Ackman has long maintained that Herbalife is going to zero, but how much pain will he be able to withstand if Herbalife continues to move against him?
Filed under:
General Market News