Massive Outflows From UK as Vote Nears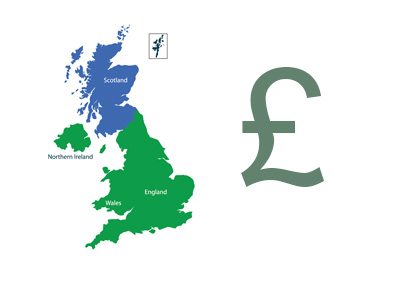 According to multiple media reports, an estimated $27 billion was pulled out of UK financial assets by investors in August, which translated into the single largest month of outflows in the United Kingdom since the collapse of Lehman Brothers in 2008.
Investors are clearly worried about the upcoming Scottish independence vote which is set to take place on September 18th. A couple of months ago the prospect of a "Yes" vote seemed ridiculous - however, an effective campaign has seen the pro-independence movement move into a virtual tie with the "No" movement. According to a recent ICM/Guardian poll, 51% of those surveyed said that they would be voting "No" in the referendum while the remaining 49% said that they would be voting "Yes".
The vote is clearly going to be very close and many investors are not taking any chances ahead of September 18th. UK equities and the pound have sagged in the weeks leading up to the vote and the nervousness will continue until the vote takes place on Thursday.
-
People are split on the impact of a "Yes" vote to Scotland. Some believe that independence would come at a tremendous cost, both in the near and long-term, while others believe that the benefits would far outweigh the drawbacks.
The consensus on the impact of a "Yes" vote on the United Kingdom is more solid as you would have a hard time finding anybody who doesn't believe that it would have a profoundly negative impact, hence the nervousness of investors heading into Thursday.
-
Most observers seem to think that the "No" vote will win out in the end, though the momentum is definitely with the "Yes" side right now.
Filed under:
General Knowledge