Where Do Markets Go From Here?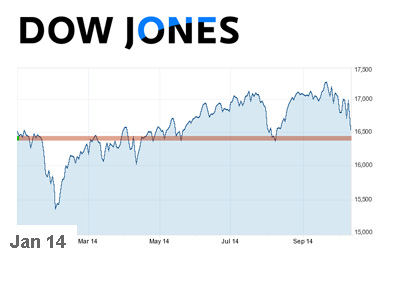 Many online news websites and traditional newspapers will be filled this weekend with pictures of stock traders looking flummoxed and forlorn as the Dow Jones Industrial Average turned negative for the year following a very volatile week. The average has moved at least 200 points in either direction five out of the last seven trading sessions.
The Dow Jones Industrial Average fell 115.15 points today to close at 16,544.10. After keeping its head above water for most of the day, the average finally capitulated in the last hour of trading as many investors decided that they really didn't feel like holding over the weekend.
According to Bloomberg.com, the damage over the past three weeks or so has been quite severe, as the 700+ point drop in the DJIA has translated into an evaporation of roughly $1 trillion in value.
The Nasdaq and S&P 500 haven't escaped the carnage either as both averages posted their worst weeks since 2012.
-
The "good" news released earlier in the week that the Federal Reserve was not going to be raising interest rates for the foreseeable future had a short-term positive impact on the markets. The impact was fleeting, however, as concerns over global economic growth seem to be foremost on the minds of investors. The mid-week gains were quickly obliterated as the markets had to contend with a wall of selling.
-
Over the past 5 years, any short-term dips in the market have been gobbled up by confident investors. Is it different this time or will the markets trade to new highs? Are you getting out or staying in?
Filed under:
General Market News