Deutsche Bank Wonders How Deal Would Have Been Reported Had Gekko Bought Heinz and Kraft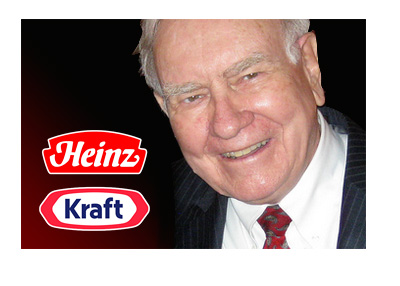 Late last week, the 3G Capital Partners and Berkshire Hathaway owned H.J. Heinz Co. announced that they would be merging with Kraft Foods Group.
The deal, which will create a $50 billion food giant, will see brands like Jell-O, Kool-Aid and Heinz Ketchup all housed under the same roof.
The deal makes Kraft shareholders largely happy (they will receive 49% of the new company and their shares appreciated dramatically in value after the deal was announced) and Berkshire Hathaway and 3G Capital are now up dramatically on their original investment in Heinz.
-
On Friday, in a note to clients, brokerage firm Deutsche Bank wondered how the deal would have been received if you swapped fictional character Gordon Gekko for Warren Buffett.
After all, 3G Capital Partners' modus operandi is to invest in food companies and then use their know-how to streamline operations in order to increase earnings. Translation: this "streamlining" involves shutting factories and firing workers. The merger between Kraft Foods Group and Heinz is likely going to be no different - 3G Capital Partners is going to wring every dollar that they can out of the company by cutting any inefficiencies. This will almost surely result in thousands of job cuts and some shuttered workplaces.
In "Wall Street", Gordon Gekko's favorite way of making money was to purchase companies where the parts were worth more than the company itself. By chopping up the company and selling it in pieces, Gekko was able to make millions.
In the case of Heinz and now the new Kraft Foods Group/Heinz company, Berkshire Hathaway and 3G Capital Partners are looking to maximize their return on investment by creating a streamlined and efficient food giant. As mentioned, jobs will likely be lost as a result and factories may be shut.
Deutsche Bank's point is an interesting one - how would the public be reacting to this merger if the cuddly Warren Buffett wasn't the face of the deal?
--
Photo:
Aaron Friedman
Filed under:
General Market News