"Identical New Favorability Ratings Among Democratic Primary Voters"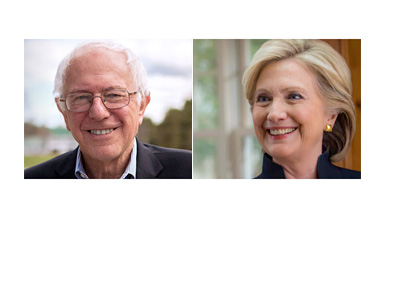 Hillary Clinton has a race on her hands.
According to a recent CNN/WMUR primary poll in New Hampshire, former Secretary of State and First Lady Hillary Clinton is now in a statistical tie with the surging Bernie Sanders in New Hampshire.
In addition, the poll points out that amongst Democratic primary voters, Vermont Senator Bernie Sanders and Hillary Clinton have "identical favorability ratings among Democratic primary voters".
-
According to the poll, Hillary Clinton has a 74% favorability rating among New Hampshire's Democratic primary voters. Bernie Sanders, on the other hand, has a favorability rating of 66%.
Clinton, however, has a much higher number of people that look at her in a negative light, as 19% of respondents said that they viewed Clinton in a negative light, compared to just 11% for Bernie Sanders.
In recent months, Sanders' favorability rating has surged in New Hampshire, while Clinton's has tailed off.
-
If the New Hampshire Democratic primary was held today, 43% would vote for Hillary Clinton, while 35% would vote for Bernie Sanders. This is a remarkable multi-month move, as Clinton had the support of over 60% of Democratic primary voters in February of 2015.
-
Both Clinton and Sanders have made the "1%" a central plank in their campaigns. Hillary Clinton has said that she wants to "topple the 1%", while Bernie Sanders believes, amongst other things, that a financial transactions tax should fund free post-secondary education in the United States.
The ironic thing about Clinton's comments is that she is, in fact, part of the 1%, as her and her husband, Bill Clinton, make many millions of dollars per year on the speech circuit. Bernie Sanders, on the other hand, has a fairly meagre net worth when compared to other members of Congress.
-
Can Bernie Sanders continue his rise? Should Hillary Clinton be worried?
Source: WMUR.com -
The CNN/WMUR NH Primary Poll (*.pdf)
Filed under:
General Knowledge