Over $100 Billion in Market Capitalization Wiped Out in Last Couple of Months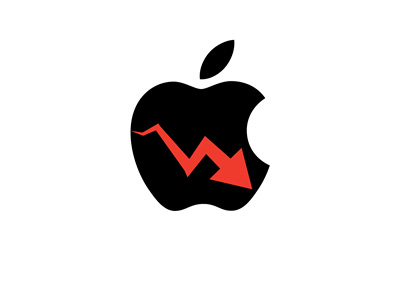 What ails Apple?
Shares of the Cupertino, California company, which have been on a phenomenal multi-year run, have slumped 14% since the end of April. This doesn't sound like all that much until you realize that this downwards move translates into a loss of roughly $100 billion in market cap.
Wall Street remains bullish on Apple, though some investors are starting to get nervous as the stock trades below key levels. Most analysts have price targets in the high $140s and are advising their clients to hang tight, arguing that the Apple business is still extremely sound and that the stock is undervalued by practically any metric that you want to use.
-
So why has Apple pulled back so sharply over the past couple of months?
Many people are pointing to China as the primary reason why shares of Apple have trended lower recently. In fact, the move in Apple closely mirrors the move made by China's stock market. The Chinese stock market slumped badly earlier this year, prompting government officials to enact dramatic measures in order to stabilize their major market exchanges and calm the frayed nerves of their citizens. With a slowing economy and volatile stock market, the theory goes, Apple's prospects in China will dim considerably. In addition, a report surfaced this week that stated that the iPhone's market share in China dipped to #3 behind Xiaomi and Huawei in the second quarter.
In addition, investors may be nonplussed about the sales (or lack thereof) of the Apple Watch so far. At one time, hopeful investors and market watchers believed that the Apple Watch may have been able to compete with the iPhone as the company's highest revenue generating product. Things have not panned out this way, however, and many are now looking ahead to the Apple Car.
On top of all of that, concerns over competition (especially in markets such as China) continue to permeate the stock.
-
Apple bears point out that the technology goliath is finally starting to creak under its own weight and that extreme growth for a company with a $700 billion market cap is no longer feasible.
Apple bulls, on the other hand, make the case that this recent 14% dip is a temporary blip and that the company is actually undervalued.
Filed under:
General Knowledge