Berkshire Hathaway Reveals $4.48 Billion Position in Phillips 66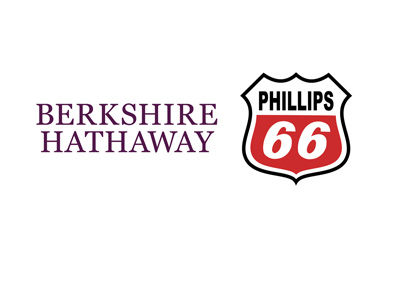 The identify of Berkshire Hathaway's new mystery position has now been revealed.
On Friday evening, Berkshire Hathaway revealed via a SEC filing that it had amassed a $4.48 billion stake position in oil refiner Phillips 66. As of August 28th, 2015, Berkshire Hathaway held a 57,975,456 stake in Phillips 66, or about 10.8% of the company. The most recent transaction date is listed as August 28th, 2015, when Berkshire Hathaway picked up another million shares of the company in three different transactions ($75.87, $76.60, $77.21).
-
In Berkshire Hathaway's most recent 13F-HR filing, the company revealed that it was building a position in an unnamed company. The SEC will sometimes give Berkshire Hathaway the ability to acquire a stake in a company without disclosing the position to the public. Once Berkshire Hathaway has finished building its position, the SEC will release the identity of the company, as this will allow Berkshire Hathaway to build a stake without others piggy-backing and driving up the price of shares. The most recent instance of this taking place was when Berkshire Hathaway took a number of months to acquire a position in Exxon Mobil Corp.
-
Berkshire Hathaway's position in Phillips 66 was likely done at the request of Warren Buffett. The company's larger positions are usually filled at Buffett's request, while the smaller positions can be initiated by one of Berkshire Hathaway's portfolio managers, Todd Combs and Ted Weschler.
-
Berkshire Hathaway's position in Phillips 66 is notable for a number of reasons, including:
1) It signals that Buffett believes that oil is at or near its bottom. As oil tanked, Berkshire Hathaway jettisoned or trimmed a number of its positions in oil companies. With its large stake in Phillips 66, Berkshire Hathaway clearly believes that the dramatic drop in the price of oil is nearly over.
2) It continues Berkshire Hathaway's strong wave of buying as of late. Heinz/Kraft, Precision Castparts and now Phillips 66 are some of the company's most recent additions to its portfolio. Buffett is constantly lamenting that it is harder to find deals right now due to the run-up in equities over the past couple of years, though he doesn't seem to be having any issues finding places to put Berkshire Hathaway's money.
Source: Yahoo.com -
Buffett's Berkshire Takes $4.48 Billion Stake in Phillips 66
Filed under:
General Market News