Average NFL Team Now Worth $1.97 Billion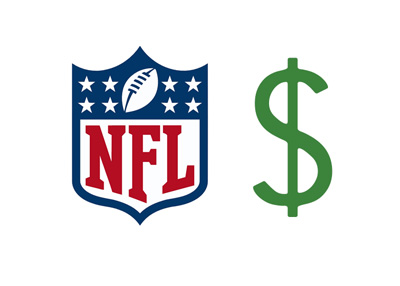 According to Forbes.com, the Dallas Cowboys of the National Football League are the world's most valuable sports franchise with a value of approximately $4 billion. This puts the Cowboys ahead of franchises such as Real Madrid ($3.26 billion), the New England Patriots ($3.2 billion), the New York Yankees ($3.2 billion) and Barcelona ($3.16 billion).
Forbes.com, in an article titled "The Most Valuable Teams in the NFL", estimates that the average NFL team is now worth $1.97 billion, up 38% from a year ago. Despite all of the off-the-field issues, the NFL continues to generate a staggering amount of money for its 32 member teams. Most of this money comes from the league's lucrative TV deals, while the rest comes from ticket sales, sponsors, concessions and luxury suites. Before the first football of the season is snapped, the NFL's 32 teams share $4.4 billion in national broadcasting revenue.
The Dallas Cowboys are the 800 pound gorillas of the NFL when it comes to revenue generation. According to Forbes, the Cowboys' franchise generated over $600 million in revenues in 2014, thanks, in large part, to the national TV deal, ticket sales, sponsorships and all of the other revenue streams that the franchise enjoys. Cowboys owner Jerry Jones shrewdly decided to build a state-of-the-art, gigantic stadium called AT&T Stadium a few years back, and the franchise now enjoys a tidal wave of revenues every season as a result.
Even the league's smaller market franchises, including the Buffalo Bills, are worth over a billion dollars. As a matter of fact, the Bills, which have the smallest worth of any of the NFL's 32 franchises, are still valued at $1.4 billion.
The owners of the league share revenues with each other, which means that all 32 of the franchises are in exceedingly strong financial shape. In fact, there was not a single NFL franchise last season that lost money.
-
Many NFL fans are upset with Commissioner Roger Goodell thanks to his botching of several high profile cases, including the recent situations involving Ray Rice and Tom Brady. At the end of the day, however, the fortunes of the league have never been better, and with each of the 32 owners printing money, it will be hard to convince the owners to get rid of Goodell.
Source: Forbes.com -
The Most Valuable Teams in the NFL
Filed under:
General Knowledge