Markets Edge Higher After Yellen's Speech is Released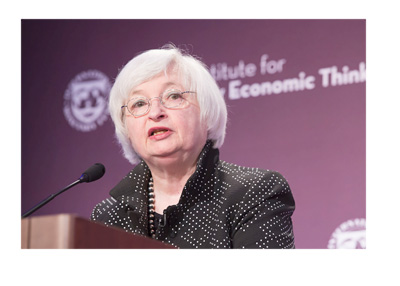 The Dow Jones Industrial Average edged higher today after Fed Chairwoman Janet Yellen made a speech on Thursday night in which she said that the Federal Reserve still intends to raise interest rates later in the year.
Earlier this month, the FOMC (Federal Open Market Committee) elected to keep interest rates steady in a 9-1 vote (Jeffrey M. Lacker was the lone dissenter). Many people felt as though the stock market volatility that the world witnessed in August caused the FOMC to change direction on interest rates, at least for the near-term.
-
Earlier today, during a speech given at the University of Massachusetts, Amherst, Fed Chairman Yellen stated that the Federal Reserve still intends to raise interest rates later in the year. According to Yellen, the labor market in the country continues to improve and the inflation rate is expected to trend back to the 2% target level. The FOMC has maintained all along that improving labor market conditions and inflation of at or near 2% are the two key indicators as to when it will be time to increase interest rates.
According to Yellen, the Federal Reserve will continue to monitor economic data over the coming month, both in the United States and abroad, and will revisit the idea of raising interest rates at a future FOMC meeting. Yellen warns, however, that the Federal Reserve could hold off on increasing interest rates if the economy takes a turn for the worse.
-
Why is it so important for the Federal Reserve to raise interest rates?
Lowering interest rates is an important tool that can be used to spur a lagging economy. In the face of a slackening of economic growth, the Federal Reserve can choose to lower interest rates in order to spark growth in the economy.
The problem? If interest rates are already close to zero, the Federal Reserve is missing a key weapon in case something unexpectedly bad happens to the economy. For instance, some people point out that if the global economy suffered another shock similar to 2008, the Federal Reserve would be largely helpless to prevent the fallout with interest rates close to 0%.
--
Photo:
imfphoto
Filed under:
General Knowledge