Cleveland Cavaliers Forward Inks Lifetime Deal With Nike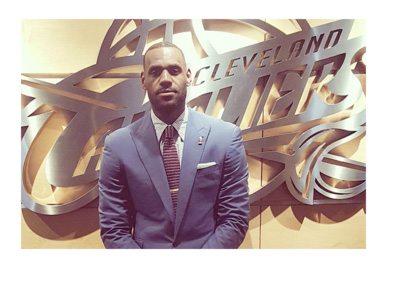 Earlier this week, Nike locked down Cleveland Cavaliers forward LeBron James with a lifetime deal. The terms of the deal weren't disclosed.
LeBron James, who is the most popular player in the NBA (National Basketball Association) by a large margin, generates a large amount of business for Nike every year. According to reports, LeBron James branded sneakers generated $340 million in sales for Nike in 2014 alone. It makes perfect sense, given these numbers, that the company would not want LeBron James to walk to another company such as Adidas or UnderArmour. After all, Lebron James is Nike's golden goose, funnelling eager customers to the company's high margin products.
The financial terms of the deal have not been released, though it stands to reason that James will be making in excess of the $20 million per year that he is reportedly making from Nike in his current deal. Most importantly to James and his team, the deal will set up James to make tens of millions of dollars per year long after his retirement, similar to how the long retired Michael Jordan still generates an estimated $40 million/yr from Nike for his deal.
-
LeBron James has undergone a tremendous brand resurgence since his return to Cleveland last year.
Cleveland's hometown superstar shocked the world when he announced that he would be leaving Cleveland to join the Miami Heat five years ago. The decision, which would result in two NBA championships and four trips to the NBA finals, saw LeBron James become one of the most vilified people in sports overnight.
James, ever the savvy businessman, repaired his brand when he announced that he would be returning to Cleveland last year. Instead of choosing a big market such as Los Angeles or New York, James chose to return to Cleveland, thus resurrecting his brand overnight. This was a savvy move, as evidenced by the flood of deals that James has signed over the past season, including his most recent deal with Nike.
-
LeBron James made an estimated $65 million last year from a combination of salary ($21 million) and endorsements.
Given James' flurry of deal making as of late and an expected dramatic increase in the NBA's salary cap (which will, in turn, raise the top max salary in the league), you can safely assume that LeBron will earn $100 million per season in the near future.
Filed under:
General Knowledge