Trump, Sanders Both Win Easily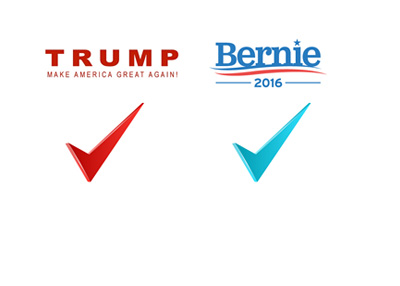 While the Iowa caucuses were closely contested and contained a number of surprises, the New Hampshire primaries largely went as expected, with Donald Trump and Bernie Sanders both scoring easy victories. For both men, the wins today are their first of this election cycle.
The final votes have not been tabulated as of yet, though both Trump and Sanders have been guaranteed victory. Here are the results as of this moment:
Trump, 34%
Kasich, 16%
Cruz, 12%
Bush, 11%
Rubio, 10%
Sanders, 60%
Clinton, 39%
There are a few stories that will come out of the New Hampshire primaries, including:
1) The continued momentum of Bernie Sanders. Sanders has been closing quickly on Hillary Clinton in national polls, and Tuesday night's result may vault him into the lead.
2) Donald Trump's first win. After losing in Iowa, Trump will post his first victory of the season.
3) John Kasich's strong performance. After doing very well in a recent Republican debate, John Kasich scored a surprise second place finish in New Hampshire and may emerge as the strongest contender to Donald Trump.
4) Marco Rubio's weak performance. Following a strong third place finish in Iowa, many figured that Rubio would prove to be the man to challenge Donald Trump for the Republican nomination. That was until disaster struck in the form of a widely lampooned debate performance in which Rubio came off as overly rehearsed and robotic. Rubio, for his part, has vowed to do much better in future debates.
5) Hillary Clinton. The Clinton campaign continues to seemingly fall apart in front of our very eyes, despite the fact that she is still leading in national polls. Is this deja vu all over again? Is Clinton going to get passed by Sanders and eventually lose the nomination, similar to how she lost to Barack Obama in 2008? With such a negative news flow as of late, it will be interesting to see how the Clinton campaign plans on getting back on track.
-
With Iowa and New Hampshire now in the books, attention will turn to the Nevada caucuses and South Carolina primaries, which are slated to take place later in the month.
Filed under:
General Knowledge