Christie: Trump Our Best Chance to Beat Hillary Clinton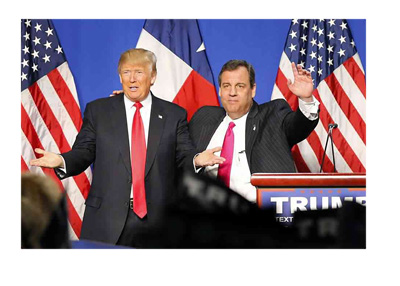 New Jersey Governor Chris Christie, who pulled out of the Presidential race following a disappointing performance in New Hampshire, surprised many on Friday by publicly endorsing Donald Trump for President.
According to Trump, the two men met a few days ago. During the meeting, Gov. Christie revealed that he would be backing Trump for President.
The Trump campaign revealed the Gov. Christie endorsement just hours after the CNN Republican debate. In the debate, Trump was attacked ferociously by both Marco Rubio and Ted Cruz, both of whom were looking to inflict some serious damage on the GOP Presidential nomination front-runner before next week's crucial "Super Tuesday". In the past, both Rubio and Cruz had mostly ignored Trump, instead trying to build themselves as the reasonable alternative to "The Donald". At last night's debate, however, both Rubio and Cruz took the gloves off.
According to various polls, last night's debate did practically nothing to change the fortunes of Rubio, Cruz, Ben Carson or John Kasich. Donald Trump is still the clear frontrunner for the GOP nomination, and all of the other candidates are considered underdogs at this point.
The Trump campaign, however, seized the opportunity to arrest any possible slide in polling numbers by bringing out Gov. Christie for his public endorsement.
-
Gov. Christie was critical of Trump during his Presidential campaign run, stating that Trump was simply not ready to be President and that much of his world was "make believe" for the benefit of the cameras.
During his public endorsement of Donald Trump earlier today, however, Christie was quick to point out that the two had long been friends and that the verbal sparring between the two was simply a result of the competitive nature of the nomination race.
Source: NBCNews.com -
Chris Christie Endorses Donald Trump for President
Filed under:
General Knowledge