Amazon.com Hits New All-Time High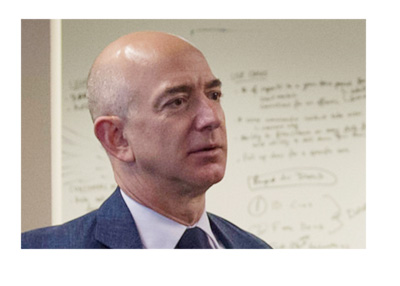 Thanks to a recent surge in the prices of shares of Amazon.com, Jeff Bezos is now the world's fourth richest person.
Earlier today, Amazon.com closed at $703.07, valuing the e-commerce/cloud computing giant at $331.73 billion. Amazon.com is now sitting in some rarefied air, as only a handful of companies can claim to be worth more.
Jeff Bezos, the founder and CEO of Amazon.com, is one of the chief beneficiaries of this surge, as his net worth now clocks in at roughly $61.7 billion. Tuesday, as mentioned, was a good day for the company, and this added roughly $1.67 billion to Bezos' total net worth.
According to his last SEC filing, Bezos currently owns 82,914,385 shares of Amazon.com.
-
Bezos' net worth of $61.7 billion makes him the fourth richest person in the world, putting him ahead of the likes of Mark Zuckerberg, Larry Ellison and Michael Bloomberg.
Only three men - Bill Gates, Amancio Ortega and Warren Buffett - can claim to have more money than Bezos as of this moment. Bezos is the youngest of the four and has made nearly every penny of his $62 billion net worth over the past twenty years, while Gates, Buffett and Ortega have taken considerably longer to make their fortunes.
-
Analysts are falling over themselves to raise their estimates for Amazon.com, with some claiming that Amazon will almost certainly be the first trillion dollar publicly traded company in the United States.
This brings up the distinct possibility, given the expectations of analysts, that Bezos could end up becoming the richest person in the world in fairly short order. Bill Gates, Amancio Ortega and Warren Buffett will do their very best to hold Bezos off, while the hard-changing Mark Zuckerberg will try to continue to gain ground on the entire pack.
With AWS, Amazon Prime and their goliath e-commerce operation all humming along quite nicely, Amazon.com may end up becoming North America's most valuable publicly traded company, which would likely make Jeff Bezos the world's most wealthy person.
--
Photo:
Ash Carter
Filed under:
General Market News