3/4 of "FANG" Companies Now Worth Same or More Than Berkshire Hathaway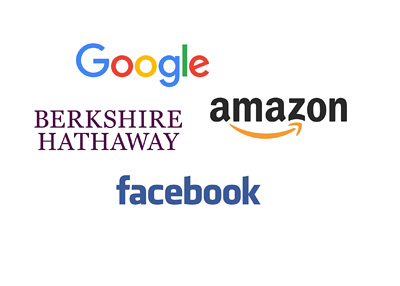 For a brief moment earlier today, Facebook was worth more than Berkshire Hathaway.
As a matter of fact, for a few moments today, 3/4ths of the FANG companies (Facebook, Amazon, Netflix and Google) were worth more than the conglomerate named Berkshire Hathaway. Only Netflix, which is currently valued at $39.12 billion, was worth less.
Here are the market capitalizations of Berkshire Hathway compared to Facebook, Amazon and Google as of the end of business today:
Berkshire Hathaway, $355.9 billion
Facebook, $354.51 billion
Amazon, $358.03 billion
Google, $543.3 billion
Facebook, with $20 billion+ in annual revenue projected for 2016 and a P/E ratio is over 75, is available for the same price as Berkshire Hathaway, which is about as blue chip of an enterprise as you will get. While Facebook is still growing like crazy and is still valued as a growth company, Berkshire Hathaway, with its insurance, chemicals and railroad businesses, just to name a few, is obviously valued differently. In the end, however, you are left with two companies that could be bought for roughly the same price.
-
Berkshire Hathaway owns many businesses outright. According to Buffett, roughly a dozen of their wholly owned businesses could be listed on the S&P 500. Here is a full list of the Berkshire Hathaway companies:
Acme Brick Company
Applied Underwriters
Ben Bridge Jeweler
Benjamin Moore & Co.
Berkshire Hathaway Automotive
Berkshire Hathway Energy Company
Berkshire Hathaway GUARD Insurance Companies
Berkshire Hathaway Homestate Companies
Berkshire Hathaway Specialty Insurance
BH Media Group
BoatU.S.
Borsheims Fine Jewelry
Brooks
Buffalo NEWS, Buffalo NY
BNSF
Business Wire
Central States Indemnity Company
Charter Brokerage
Clayton Homes
CORT Business Services
CTB Inc.
Duracell
Fechheimer Brothers Company
FlightSafety
Forest River
Fruit of the Loom Companies
Garan Incorporated
Gateway Underwriters Agency
GEICO Auto Insurance
General Re
Helzberg Diamonds
H.H. Brown Shoe Group
HomeServices of America
International Dairy Queen, Inc.
IMC International Metalworking Companies
Johns Manville
Jordan's Furniture
Justin Brands
Kraft Heinz
Larson-Juhl
Louis-Motorcycle & Leisure
Lubrizol Corporation
Marmon Holdings, Inc.
McLane Company
MedPro Group
MiTek Inc.
National Indemnity Company
Nebraska Furniture Mart
NetJets
Oriental Trading Company
Pampered Chef
Precision Castparts Corp.
Precision Steel Warehouse, Inc.
RC Willey Home Furnishings
Richline Group
Scott Fetzer Companies
See's Candies
Shaw Industries
Star Furniture
TTI, Inc.
United States Liability Insurance Group
XTRA Corporation
In addition, Berkshire Hathaway maintained the following sizeable stakes in publicly traded companies as of the end of Q1/2016:
American Express
Apple
Bank of New York Mellon Corp
Charter Communications
Coca Cola
Costco
Davita Healthcare Partners
Deere & Co.
General Electric
General Motors
Goldman Sachs
Graham Holdings
IBM
Johnson & Johnson
Kinder Morgan
Kraft Heinz
Lee Enterprises
Liberty Media
M&T BK Group
Mastercard
Media Gen Inc.
Mondelez International
Moodys
Now Inc.
Phillips 66
Proctor & Gamble
Restaurant Brands Intl
Sanofi
Suncor
Torchmark
Twenty First Century Fox
US Bancorp
USG
UPS
Verisign
Verizon
Verisk Analytics
Visa
WABCO Holdings
Wal Mart
Wells Fargo
Axalta Coating Sys
Liberty Global Plc
On top of all of that, Berkshire Hathaway has billions of dollars in cash that is sitting, ready to be deployed. Berkshire Hathaway's wholly owned businesses and stakes in publicly traded companies throw off over a billion in cash for the conglomerate each and every month.
-
Facebook, on the other hand, continues to battle with Google to become the largest advertising platform on the Internet.
After some initial pains, Facebook has figured out how to monetize their mobile users. The results have been phenomenal - Facebook reported earnings of 97 cents per share last quarter on revenues of $6.44 billion, easily surpassing analyst estimates. The company continues to grow daily active users at a steady clip and has a number of potential monetization avenues available down the road, including virtual reality headsets, increased Instagram/Whatsapp advertisements and search.
-
When the smoke clears and Facebook's growth starts to slow, as it inevitably will, how will its value compare to that of Berkshire Hathaway?
Filed under:
General Market News