Warren Buffett's Wealth Swells Following Donald Trump's Victory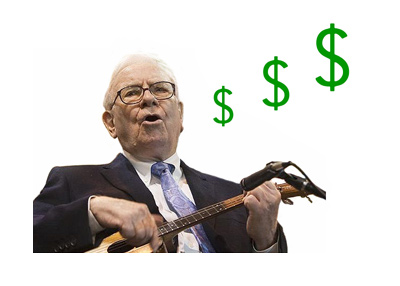 While Warren Buffett is certainly no fan of Donald Trump, the "Oracle of Omaha" has to be pleased with how his personal net worth is looking in the wake of Trump's surprise victory in the November election.
According to Forbes, Warren Buffett has seen his wealth spike by $12.3 billion in 2016, with most of the gains coming over the past 6 weeks. These gains have made Warren Buffett the second wealthiest person in the world with a total net worth of $74.2 billion, roughly $12 billion behind his friend, Bill Gates.
Warren Buffett does have one piece of data that he can use to brag to his good friend Bill Gates, however - Buffett has made more money than any other human in 2016.
-
The types of companies that will likely thrive under a Donald Trump presidency - banks, infrastructure plays, manufacturing - are strewn throughout Berkshire Hathaway's portfolio of public and private companies.
Banks, in particular, should do very well under a Trump presidency, as banking regulations will very likely be loosened and interest rates will almost certainly trend higher.
Wells Fargo, which was a big headache for Warren Buffett prior to the election (thanks to the account opening scandal), has taken off since Trump won in November. With shareholders of Wells Fargo seeing their stock near all-time highs, the pressure on Buffett to enact changes at the company has suddenly lessened considerably.
-
The ironic thing about all of this is that Warren Buffett supported Hillary Clinton in the election.
Berkshire Hathaway's shareholders, who are strewn across the political spectrum, likely have to be at least somewhat pleased the Donald Trump won, as their stock has raced higher as a result of Trump's victory.
Source:
Forbes.com
Photo:
Flickr
Filed under:
General Knowledge