Two Day Tumble Sends Snap Inc. Down To $21.44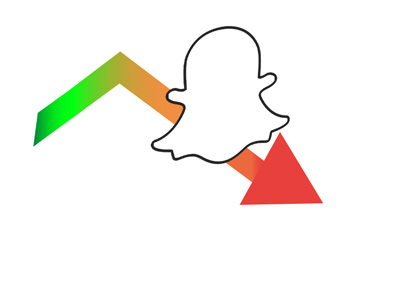 Is the bloom already off of the Snap Inc. rose?
Last week, shares of Snap Inc. finally went public. The parent company of Snapchat raised many eyebrows when they (temporarily) commanded a valuation of over $30 billion, despite fierce competition from the likes of Instagram, an unclear path towards actually making money and common shares that don't include voting rights.
The stock market has pruned billions off of Snap Inc's valuation this week, however, as shares have fallen from over $27 to a current level of $21.44. On Friday afternoon, shares of the company nearly reached $30 and have been in a freefall ever since.
-
According to multiple media reports, millennial investors turned out en masse to pick up shares of Snap Inc. after the company finally went public. This explains the bizarre multi-day surge after the company listed their shares, as investors all over the world scratched their heads over the company's implausible valuation. It stands to reason that many people who jumped in shortly after the company priced have now jumped out.
In addition, despite the very high borrow costs, the short position in Snap Inc. is already building up, as many believe that the company has little in the way of long-term prospects. Is Snapchat really worth 2-3x more than Twitter, given the issues that both companies will likely have in turning a profit and making significant money from their users? Facebook is a money-making machine and has a valuation that is reasonable - for Twitter and Snapchat, the story is completely different.
-
With Snap Inc. closing at $21.44 today, this means that everybody who bought on the first or second day of trading and is still holding is now down significantly on their position.
The next key level to watch out for is $17, which is where the company priced their initial public offering. As many other initial public offerings have found out in the past, recovering the trust of investors after shares drop below the initial public offering price can be very difficult indeed.
In addition, options on Snap Inc. start trading this Friday. I will be especially curious to see the volume in long-dated puts.
Filed under:
General Market News