Stock Has Now Definitively Traded Below Its IPO Price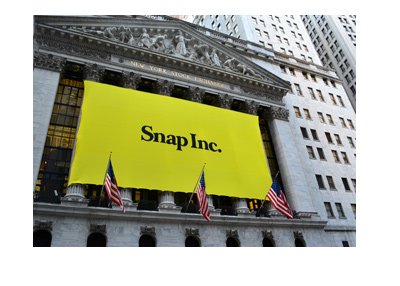 We made a mistake.
This is essentially what Morgan Stanley had to say about Snap Inc., the parent company of Snapchat, earlier today when they downgraded the stock from their equivalent of buy to hold. This is a marked change from just a few months ago, when Morgan Stanley gave one of the most bullish takes on the recent initial public offering.
Over the past couple of months, Snap Inc. has been hovering perilously close to the $17/share mark. This was the price of Snap's initial public offering, and a drop below that mark would mean that everybody who bought the IPO would be underwater. This is a crucial psychological level and IPOs have a tremendously hard time regaining investor confidence if shares fall below their IPO price.
A few days ago, Snap Inc. closed below the $17/share mark. Earlier today, the dagger in the chest came for those hoping that the $17/level would basically hold, as Morgan Stanley came out with their downgrade. Shares of Snap Inc. closed down at around $15.50, and given the company's rich valuation, could still trade much lower yet. It doesn't seem unreasonable that shares of the company could trade in the single digits this year if things don't turn around.
-
The downgrade from Morgan Stanley was especially damaging because:
1) Morgan Stanley was one of the lead underwriters in the Snap Inc. offering
2) Morgan Stanley had previously been quite bullish on Snap Inc.
In releasing their downgrade, Morgan Stanley essentially said that they had gotten the story wrong. Here is what they had to say:
"We have been wrong about Snap's ability to innovate and improve its ad product this year (improving scalability, targeting, measurability, etc) and user monetization. Snap's ad product is not evolving/improving as quickly as we expected and Instagram competition is increasing."
Facebook's Instagram product has proven to be a thorn in Snapchat's side, as Instagram rolled out their Stories feature earlier in the year. This was a direct assault on Snapchat's business, and the results haven't been pretty. Morgan Stanley now expects muted user growth at Snapchat (which is essentially a death sentence for a company with Snapchat's rich valuation) and less revenues than initially anticipated.
-
In addition, the company has a major lockup expiry just around the corner. It's not exactly a great time to be a Snap Inc. shareholder right now.
Filed under:
General Knowledge