Close Race Expected For Republican Presidential Nomination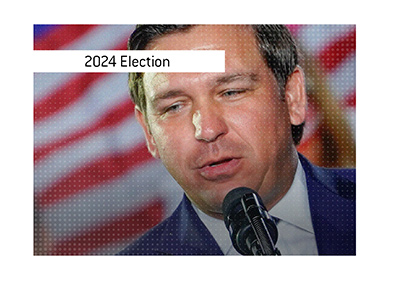 The betting and prediction markets can give us tremendous insight as to what might happen in any upcoming major political event.
There was over half a billion dollars bet on the 2020 US Presidnetial election, with even some hedge funds getting involved in the betting. This is the very definition of smart money, as these funds aren't wagering substantial sums of money unless they feel like they have the edge to make it worthwhile.
This can include scraping millions of different data points, conducting their own polling and more.
This is why betting markets are usually much more accurate than polls, which can easily be manipulated.
-
There is obviously a long period of time between now and the 2024 US Presidential election, though things will begin to heat up shortly, as we should start to get our first candidates throwing their names in for the Republican Presidential nomination shortly after the mid-term elections have been decided.
With that being said, here are some of the takeaways from where the betting markets for the 2024 election currently stand:
1.
Donald Trump and Ron DeSantis Will Wage a Fierce Battle For the Republican Nomination.
Will Ron DeSantis decide to run for President in 2024, or will he wait for 2028?
If he decides to run in 2024, DeSantis is expected to give President Trump a run for his money, as the odds for either men to secure the nomination are identical (38% implied odds) as of this moment.
If DeSantis doesn't run in 2024? Trump should win the nomination will hardly any effort.
2.
President Biden Expected To Run Again in 2024.
There have been rumblings that the Democratic party might try to convince President Biden to elect not to run in 2024 due to his age.
The betting markets don't agree, as President Biden is the clear leader to secure the Democratic nomination for 2024.
3.
Another Biden/Harris Ticket Is Likely.
Biden is expected to secure the Democratic nomination for President in 2024, and Kamala Harris is expected to be on the Democratic ticket (63% likelihood).
According to the betting markets, you can expect Biden/Harris in 2024.
4.
Ron DeSantis Currently Has The Best Odds To Win the 2024 US Presidential election.
As of this moment, the betting markets think that Ron DeSantis beats out Trump for the Republican nomination in 2024 and eventually goes on to beat Joe Biden.
Democratic supporters, you might want to look away, as the betting markets don't give Biden much of a chance in 2024,
5.
Donald Trump Will Absolutely Run in 2024.
President Trump likes to be cagey when people ask him if he is running for President again.
Barring all unexpected health issues, President Trump will absolutely run again in 2024.
According to reports, if the candidates that he is backing do well in the mid-term elections, Trump will announce his candidacy for President before the end of 2022.
If he candidates don't do well, he will reportedly announce his intentions in early 2023.
-
In short - Trump/DeSantis could be hurtling towards an epic battle, while the Democrats will likely have some real trouble holding onto the White House in 2024.
Filed under:
General Knowledge