Major US Banks Reportedly Testing Higher ATM Fees
Let's say that you are out on a date. You are low on cash, so you run into a local Chase bank to hit their ATM machine. You are not a Chase customer.
According to the WSJ Deal Journal, withdrawing money in this circumstance could cost you as much as $5 in the future.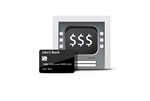 That's right - Chase is testing ATM fees of $4 and $5 in Texas and Illinois respectively for people who use Chase ATM machines but aren't Chase customers.
Banks are having cash cows such as fees on debit cards and overdraft charges limited due to the Dodd-Frank bill, so they are looking to make it up in other ways.
Enter the $5 ATM fee.
Now, the $4 and $5 ATM fees are currently just in the "testing" phase, but you can be reasonably certain that these new fees will end up passing the "testing" phase with flying colors. According to consulting firm Oliver Wyman, banks collected $7.1 billion in ATM fees last year, of which $3 billion was from banks charging their customers for using another bank's ATM machine.
So, not only do Americans have to cope with
sky-high gas prices
and
rising food prices
, but now they might have to pay $5 per transaction to withdraw money from certain bank machines as well. It's getting expensive out there.
Source: Blogs.WSJ.com -
It's Coming: The $5 ATM Fee