President Obama Owns US Debt and Not Much Else
As President of the United States, President Barack Obama has to file personal financial disclosures every year that list his assets, liabilities and sources of income.
Barack Obama's most recent filing was made in May of 2011 and covers the 2010 year.
It's interesting to pore through some of these filings to see what politicians are currently holding in their portfolios.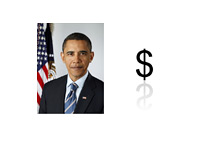 Barack Obama has a very boring investment portfolio, but we are going to take a look nonetheless.
*Note: these disclosures don't require the exact value of the assets/income/liabilities to be disclosed - instead, they are given in ranges, eg. $250,001 - $500,000
According to Obama's disclosure, his two biggest assets were:
US Treasury Bills
US Treasury Notes
Both of these holdings were somewhere in the $1,000,001 - $5,000,000 range.
After that, Obama had a Checking Account at JP Morgan Chase that had somewhere between $250,001 and $500,000 in it.
President Obama also had Bright Direction College Savings 529 Plans for each of his daughters - both of these accounts have between $100,001 and $250,000 in them.
Rounding out the list of his largest assets were:
US Treasury Bills - SEP/IRA, $100,001 - $250,000
Vanguard 500 Index Fund - $100,001 - $250,000
As mentioned - pretty boring stuff. For the full list of the Obama's assets, just click on the link at the bottom of this article.
According to the disclosure, Obama had a net worth of between $2,802,012 and $11,830,000 at the end of 2010. There were no liabilities to speak of.
In terms of his income, Barack Obama and his family did well for themselves in 2010. In addition to the $400,000 salary that he made as President, Obama also took home at least a million dollars in book royalties and advances.
Source:
Barack Obama Net Worth