Stock Nears 52 Week High as "Breaking Bad" Finale Pulls In Over 10.3 Million Viewers
Shares of AMC Networks, Inc. (AMCX) rose nearly two points on Monday to close at $68.50 following the series finale of the hit TV show, "Breaking Bad".
The stock has performed remarkably well over the past 12 months, rising from the low $40s all the way to a 52 week high of $72.46. Analysts point to the fact that the network's seemingly golden touch when it comes to creating new original programming makes it a very attractive takeover candidate.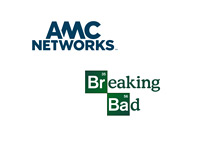 Indeed, the network does keep churning out hits. Also sitting underneath the AMC Networks' umbrella are shows such as "Mad Men" and "Walking Dead". It has been announced that "Mad Men" will be airing its final season in 2015, while "Walking Dead" is set to begin airing its fourth season later this year.
--
"Breaking Bad" became a cultural phenomenon, especially over the past couple of months as the series neared its conclusion.
Despite rave reviews and increasing ratings, the decision was made to make the fifth season of "Breaking Bad" its last. The network and the show's creator surely could have kept the show running for at least a couple more seasons, but they had the restraint to end it while the show was still in its prime. The reputation of a good many shows have been tarnished when they have stayed on the air one or two seasons too long.
The build-up to the series finale was deafening. The build-up was helped by the series' recent strong performance at the Emmys, where it won the award for best drama. In addition, the show was heavily referenced in the media over recent weeks, with Saturday Night Live and Jimmy Fallon both paying homage to the show before the final episode aired.
In total, 10.3 million viewers watched the finale on AMC - this was, by far, the highest rating that an episode of "Breaking Bad" achieved over the course of its run. The show did particularly well in the coveted 18-49 age bracket (6.7 million viewers).
--
Now that "Breaking Bad" has left the air, AMC Networks, Inc. can start to milk the lucrative syndication cow (they have the syndication rights to the show). In addition, the full series will come out in late November on DVD and Blu-Ray, just in time for the holiday season.
Not only that, but AMC, Sony and "Breaking Bad" creator Vince Gilligan are working on a spin-off show called "Better Call Saul", which will feature the crooked lawyer, Saul Goodman, who was played by Bob Odenkirk.
As you can see, there is still plenty of juice that is left to be squeezed from the "Breaking Bad" franchise, and this will likely do nothing but good things for the shares of AMC Networks, Inc.