Baupost Group LLC Unloads Remaining 2 Million Shares in FACT
Baupost Group LLC, in a Form 13G filing made earlier today, announced that they have sold the remainder of their stake in Facet Biotech Corp (FACT).
Abbott Laboratories (ABT) announced after the bell on March 9th, 2010 that they would acquire Facet for $27/share in cash.
Facet's shares spiked from $16.21 to $27.01 on the news, enabling Baupost Group LLC (and everyone else holding FACT shares) to make a big profit.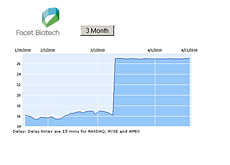 With Abbott's buyout of Facet recently receiving antitrust approval, and with Facet currently trading for $27.01/share, Baupost Group LLC decided to unload the rest of their position.
Baupost Group LLC established their position in Facet Biotech at the end of 2008/early 2009. Initially the hedge fund purchased a 2,772,092 position when the shares were trading for about $9.50/share.
Then, on February 9th, 2009, Baupost Group LLC filed an amendment to their 13G filing, revealing that their stake in Facet Biotech had grown to nearly 4 million shares. Considering that FACT had dipped to around $6.50 at the time of this filing, you can safely assume that Baupost was able to significantly reduce the average cost/share of their position.
Baupost continued to increase their position in the stock, and owned as many as 4.37 million shares at the end of Q2/2009.
In their most recent 13F-HR filing (20091231), Baupost revealed a slightly scaled-back 3,506,876 share position.
On March 16th, 2010, a week after the Abbott deal was first announced, Baupost filed a Schedule 13D amendment in which they revealed that they had sold a little over 1.5 million shares of their position in FACT.
Today, Baupost Group LLC announced that they had dumped the remainder of their position, and no longer owned one share of the stock.
A number of other funds that we track also owned FACT at the end of Q4/2009. They were:
AQR Capital Management LLC
Black River Asset Management LLC
Chesapeake Partners Management Co Inc/MD
Citadel Advisors LLC
Chesapeake Partners also held a sizable stake in FACT at the end of the quarter (1,372,711 shares), so they likely made a hefty profit as a result of the buyout announcement as well.
My best guess is that Baupost's average entry in FACT was $8-$9 per share, meaning that they likely tripled their investment in a little over a year. Baupost made nearly $40 million overnight when the transaction with Abbott was announced in March of 2010.
Source:
Baupost Group LLC 13G Filing for Facet Biotech (4/21/2010)
Source: Davemanuel.com -
FACT Quote