According to a Form 13G filing that was released by the SEC earlier today, Citadel Advisors LLC has acquired a 5.3% stake in Photronics, Inc. This works out to a total stake of 2,966,579 shares.
April 28th, 2010 was listed as the date of event that required the filing of the 13G.

This was a Form 13G filing, meaning that this is a "passive investment" for Citadel Advisors LLC. This means that Citadel won't be looking to exert control over the company.
Photronics, Inc (PLAB) is currently trading at $5.23 per share. The stock has recovered substantially after dipping below 50 cents per share in November of 2008. The 52 week low for PLAB is $1.53, while its 52 week high is $5.98.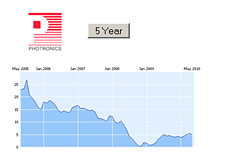 Photronics, Inc. posted a profit of less than a penny a share in its most recent quarterly earnings report, beating analyst estimates by nearly 5 cents per share due to higher sales. PLAB will be reporting its Q2 earnings over the next couple of weeks.
Citadel owned a very small stake in PLAB as of 12/31/2009 - 3,213 shares. Management at Citadel Advisors LLC obviously saw something in PLAB that they liked, electing to acquire nearly 3 million shares between the beginning of January and April 28th.
Including Citadel, 11 of the 102 funds that we track in our database owned positions in Photronics, Inc. at the end of Q4. They were:
Black River Asset Management LLC (10,500 shares)
CATAPULT CAPITAL MANAGEMENT LLC (350,000 shares)
CITADEL ADVISORS LLC (3,213 shares)
D. E. Shaw & Co., INC. (121,674 shares)
FORTIS INVESTMENT MANAGEMENT USA, INC. (63,468 shares)
GMT CAPITAL CORP (4,917,600 shares)
GOLDMAN SACHS GROUP INC (520,159 shares)
MILLENNIUM MANAGEMENT LLC (108,511 shares)
RENAISSANCE TECHNOLOGIES LLC (538,400 shares)
TWO SIGMA INVESTMENTS LLC (12,400 shares)
UBS OCONNOR LLC (700,000 shares)
Source: SEC.gov -
Citadel Advisors LLC Schedule 13G Filing for PLAB
Source: Davemanuel.com -
PLAB Quote