Certified Hosting Promocode
To Save 20% Off Most Orders,
Follow These Steps
:
1.
Click This Link
(CertifiedHosting.com)
2. Enter
SUMMER
when prompted for a promo code.
3. Click To Activate and Save 20%!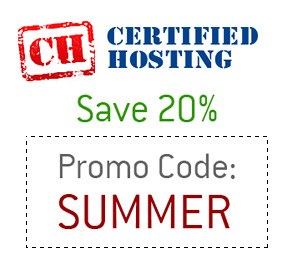 Certified Hosting is currently offering a 20% off promotion on most of their hosting plans. This includes typical web hosting plans, business hosting plans and dedicated server plans. To qualify for this discount, simply follow the instructions that have been posted above.
Whenever I look at a web host, one of the first things that I look at is how long they have been in business for. If a web hosting company has been in business for any substantial period of time, chances are that they are a legitimate operation with many happy customers.
Certified Hosting, for example, has been in business since 1999. The company, which is based in Grand Terrace, California, has made a name for themselves by offering strong customer service and a wide assortment of different hosting packages that will suit the needs of practically any customer.
Certified Hosting has a customer service staff that is available by phone, email or live chat 24/7. So, if you are trying to set up your web site in the middle of the night and are running into some issues, a helpful Certified Hosting representative will be there to help you to get your site up and running.
Free with all of the plans are the following tools and perks - Site Builder, free site file transfers, free MySQL and script transfers, 1-click installation for Wordpress and hundreds of other scripts, PHP, cURL and a host of other goodies that will help you to run the best possible web site that you can.
Interested in setting up a site to blog on? The 1-click installation for Wordpress will have you up and running in literally seconds. That's seconds, not minutes.
In addition, Certified Hosting, which has a 99.999% uptime guarantee, offers a free domain registration, a money back guarantee and instant account activation. Certified Hosting makes it very, very easy to set up a web site.
--
Let's take a look at the various plans that Certified Hosting has available for its users. We'll start with the standard web hosting accounts:
Dork Plan
- single domain, unlimited disk space, unlimited bandwidth, $100 Google Adwords credit
Price - $3.95/mo, plus 20% off by following the instructions noted above
Geek Plan
- unlimited domains, unlimited disk space, unlimited bandwidth, $100 Google Adwords credit. The price is $6.98/month, but, again, a 20% discount is available
Nerd Plan
- unlimited domains, disk space and bandwidth, free dedicated IP, free private SSL, $100 Adwords credit, $11.95/month BEFORE the 20% discount
--
The reseller plans start at as low as $19.95/month before the application of the 20% discount. The cheapest package ($19.95/month) comes with 50 GB total storage, 500 GB bandwidth, unlimited accounts and unlimited domain names. If you are planning on starting up a little web hosting business of your own, this is a great way to go.
If you are a business and are looking to develop your web presence, Certified Hosting offers two different plans - the CB Basic and CB Unlimited. The CB Basic plan is $35/month and comes with 25 GB of disk space and 1.5 Terabytes of bandwidth.
The CB Unlimited has no limits on bandwidth and costs $50/month. Both of these prices will come down with the application of the 20% discount.
If you are looking for a dedicated servers, there are a number of different options available, with the cheapest option starting at $99/month. All dedicated servers are managed with dedicated hardware. Certified Hosting will take care of everything when it comes to installing your server.
If you are looking for a bit cheaper of an option, shared dedicated servers are also available.
--
If you are looking to develop your web presence, Certified Hosting is a great company to do business with.
Again, to take advantage of the 20% off promotion (which is currently available to new customers of the site), simply follow the instructions posted above.
Certified Hosting Promo Code
Reviewed By:
Dave Manuel
Review:
9.9

/

10
Note:
I have a business relationship with Certified Hosting, and I get paid every time you click a link on this page and sign up for one of their products.