Copy The Best Traders With "Open Book"
Click Here For Your $20 Investment Gift Card!
Etoro is currently the world's largest social investment network.
First off, you are probably asking - just what is a social investment network?
With a social investment network, you can automatically copy another person's trades via Etoro's social trading platform.
Let's say that there is a trader that you have been following on the site that is doing very well. Once you have set up an account, all you have to do is click a button or two and suddenly you are automatically copying the trades of your favourite trader on Etoro. If a person seems to be a very knowledgeable foreign currencies trader, you can easily set up Etoro's Open Book social trading platform to automatically follow his/her trades.
Etoro offers trading of stocks, currencies (almost every currency pair imaginable), commodities (gold, oil, silver) and indices.
Some of the currency pairs that are offered through Etoro are EUR/USD, EUR/JPY and GBP/USD.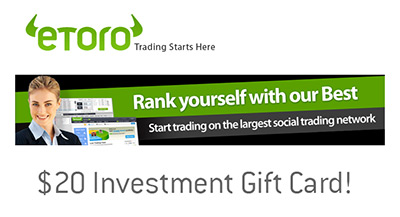 Etoro has been around for a number of years and has accumulated millions of customers during that time. Roughly 100 million trades have been opened at Etoro since the company's inception, which is a very impressive figure.
Etoro is a venture capital funded firm that has offices located around the world. The site offers 24/7 customer service in a wide variety of different languages - regardless of where you are located in the world, Etoro will likely have somebody who is able to help you with any questions that you might have.
Signing up and funding an account on Etoro are both very easy - as a matter of fact, you can be trading in just mere minutes.
Signing up, which can be accomplished by clicking here, will take you no more than five minutes to complete.
After that, all you have to do is fund your account and you will soon be in the action. Etoro offers a large number of deposit and withdrawal options, including Visa, Paypal, Neteller and Mastercard. Funding your account is very easy to do.
--
Etoro also offers a large number of educational resources in order to make your trading experience even more profitable. Etoro offers their trading academy, live webinars and trading videos that will help to make you the best possible trader that you can be.
Etoro really offers a top to bottom trading experience that really can't be duplicated anywhere else. In addition, the entire social aspect of the site makes trading a much less lonely venture - you can interact with other traders and comment on their positions. Trading can be a grind, but Etoro has made it fun through their Open Book social trading platform.
--
Etoro offers everything that you could possibly want as a trader - why not open up an account?
Click Here For Your $20 Investment Gift Card!
Etoro Social Investment Network
Reviewed By:
Dave Manuel
Review:
9.6

/

10
Note:
I have a business relationship with Etoro, and I get paid every time you click a link on this page and sign up for one of their products.