Fatcow Coupon
Fatcow Coupon
Follow these instructions to unlock your 60% savings at Fatcow:
a)
Click on This Link
(It Will Take You To Fatcow.com)
b) Click on the Sign Up button.
c) Enter the domain name that you want to use.
d) Sign up for your account.
That's it! You have now successfully activated the 60% off coupon.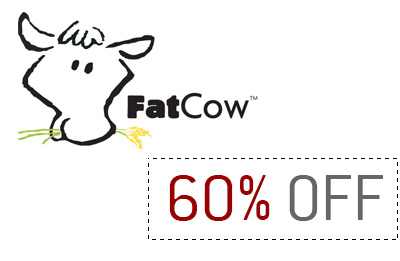 What are the reasons to sign up for a Fatcow.com hosting account? Here are my top reasons:
1. Free domain.
2. $175 in free advertising credits at Google Adwords, Facebook Ads and Adcenter. If you are starting up a business, this is FREE money that you can use to start generating new business for your company.
3. Instant activation (your site will be live in minutes - trust me)
4. No setup fees.
5. Full Wordpress support.
In addition, Fatcow has a long history, as they have been in business since the late '90s. That is always a good sign to me.
--
It's time to establish your presence online, and Fatcow.com is a great place to do it.
The Fatcow.com introductory offer works out to just $3.15 a month, which is less than a cup of coffee at Starbucks. Why not take advantage of this deal and get started today?
Fatcow Coupon
Reviewed By:
Dave Manuel
Review:
9.7

/

10
Note:
I have a business relationship with Fatcow, and I get paid every time you click a link on this page and sign up for one of their products.