Yahoo! Web Hosting Coupon Discount
Click Here To Activate Your Yahoo! Discount (no code is needed)
Yahoo!, which is currently one of the largest online media companies in the world, is currently offering people the chance to save up to 35% when they sign up for a Yahoo! web hosting account.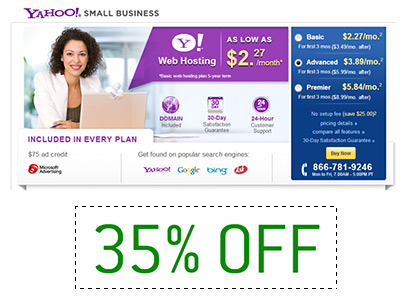 Yahoo! is a multi-billion dollar online company that is currently being helmed by Marissa Mayer. The company has the infrastructure and staff to offer you a stable home for your brand new web site.
Prices start as low as $2.27/month under Yahoo's introductory offer, which will allow you to save up to 35% off of the regular price during the offer period. In addition to this low monthly cost, Yahoo! will also waive their set-up fee ($25) and throw in a free domain name to get you started. In addition, all new customers will receive a $75 advertising credit at Microsoft Advertising, which allows you to enter yourself into top search positions in order to secure new customers or readers.
As mentioned, Yahoo! has the infrastructure in place to offer a strong customer service experience. One of the benefits of dealing with Yahoo! is that you will have access to a customer service staff that is available 24/7.
--
Here are the three different pricing tiers under the introductory 35% off offer:
Basic - $2.27/month
Advanced - $3.89/month
Premier - $5.84/month
Yahoo! has made it very easy for you to get started - you will literally have your web site up in just a few minutes if you follow their instructions. Yahoo! has the entire process streamlined to make it very simple and easy.
--
Again, entering a coupon code is not necessary to qualify for the 35% off promotion. Simply click the link below, follow the instructions and you will see that you will qualify for the savings of up to 35%.
Click Here To Activate Your Discount
Yahoo! Web Hosting Coupon Code
Reviewed By:
Dave Manuel
Review:
9.4

/

10
Note:
I have a business relationship with Yahoo!, and I get paid every time you click a link on this page and sign up for one of their products.