First Eagle Buys 1.475 Million Share Stake of TUTR
In a recently filed (April 9th) Schedule 13D, First Eagle Investment Management, LLC announced that they had acquired a 1,475,000 share stake (or about 6.04%) of Plato Learning, Inc (TUTR).
According to the 13D, First Eagle Investment Management, LLC acquired their position in six different transactions:
3/26/10 - 1 million shares purchased at $5.55
4/05/10 - 63,787 shares purchased at $5.59
4/06/10 - 126,213 shares purchased at $5.63
4/07/10 - 108,141 shares purchased at $5.64
4/08/10 - 124,553 shares purchased at $5.65
4/09/10 - 52,306 shares purchased at $5.64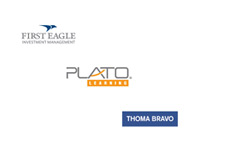 What's interesting is that private equity firm Thoma Bravo announced its intentions to acquire Plato Learning, Inc. in an all-cash deal on Friday, March 26th. The deal would be valued at $141 million, which would give Plato shareholders about $5.60 in cash per share.
After the transaction was announced, a couple of law firms announced "investigations" into whether or not the deal provided "adequate value" to the Company's shareholders.
Clearly First Eagle Investment Management, LLC believes that the deal does not provide adequate value to shareholders - why else would they buy a 1.475 million share stake AFTER the deal was announced, and why would they pay more for some of the transactions than the cash value of the deal?
Look no further than the 13D:
"The Reporting Person acquired the Shares.. because it believed that the Shares, when purchased, were undervalued and represented an attractive investment opportunity."
Interesting - I guess it's safe to say that First Eagle will be voting against the deal. The deal is expected to close sometime this summer.
A few other hedge funds of note owned stakes in Plato Learning Inc. as of the end of the last quarter (12/31/2009):
Soros Fund Management LLC - 16,698 shares
Renaissance Technologies LLC - 497,000 shares
TUTR closed at $5.65 on Friday afternoon. It definitely seems as though this deal will not go through at its current price..
Notes: First Eagle - "The firm, which has its corporate offices on the Avenue of the Americas in New York, employs approximately 134 professionals and has over $38 billion under management, as of December 31, 2009."
Source:
First Eagle Investment Management, LLC 13-D