President Obama's Approval Rating Set to Rise after Bin Laden's Death
On Sunday night, President Barack Obama stepped to a White House podium and announced that American forces had killed 9/11 mastermind Osama Bin Laden in Pakistan.
After a nearly 10-year search, the most wanted man in the world, Osama Bin Laden, was dead.
One of the things to watch, as the nation continues to digest this news, is how President Obama's approval rating will be affected as a result of Bin Laden being killed.
As it stands right now, President Obama has an approval rating of 46%, and a disapproval rating of 45% (Source: Gallup.com)
If you are thinking that Obama's approval rating is set to surge after the death of Bin Laden, then you would be right.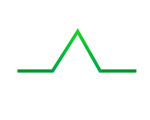 According to Gallup.com, President Bush's approval rating shot up 7% in the days following Saddam Hussein's capture (Bush's approval rating went from 56% to 63% in less than a week).
Bush's spike was short-lived, however (he was back down to a 49% approval rating six weeks later), and you can safely assume that any large spike for Obama would be short-lived as well.
--
So how much of a boost might Obama's approval rating get?
According to Gallup, "a reasonable baseline estimate could be the expectation that Obama's approval rating could rise at least seven points in the next several days, which would put him over the 50% mark".
--
In terms of the 2012 Presidential election, Barack Obama already holds a number of advantages over his yet-to-be-named Republican opponent. In addition to being the incumbent,
Obama is also hoping to raise a BILLION dollars
for his campaign.
The Republicans were already facing a tall task in defeating Obama in 2012. Will Bin Laden's death put Obama over the top next year?
Source: Gallup.com -
History Suggests a Rally in Obama's Job Approval Rating as a Result of Bin Laden's Death