Harbinger Capital Partners LLC Sells 3.25 Million Shares of New York Times
In a Form 13D amendment filing released earlier today, Harbinger Capital Partners LLC announced that they have continued to cut their stake in the New York Times Company (NYT).
In their most recent quarterly 13F-HR, the Harbinger Capital Partners Master Fund I, LTD. revealed that they owned 18,386,799 shares of NYT through their assorted companies (Harbinger Holdings, LLC and Harbinger Capital Partners, LLC) as of December 31st, 2009.
Since then, Harbinger has filed TWO Form 13D amendments in which they have announced reductions to their position in the New York Times.
On March 30th, 2010, Harbinger Capital Partners announced that they had sold 1.5 million shares on March 26th at an average price of $11.20/share, reducing their position to a total of 16,886,799 shares.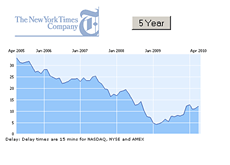 Earlier today, Harbinger announced that they had further reduced their position in NYT through two separate sales (1.5 million shares at $12.30 per share on April 20th and 1.75 million shares at $12.55 per share on April 21st).
These three transactions leave Harbinger Capital Partners LLC with a 13,636,799 share position in NYT, which represents a 9.43% stake in the company.
Philip Falcone, who runs the Harbinger funds, has been dramatically reducing his exposure to NYT over the past number of months.
At the end of Q3/2009, Harbinger owned a total of 23,538,434 NYT shares.
At the end of Q2/2009, Harbinger owned a total of 28,538,434 NYT shares.
It remains to be seen whether or not Falcone plans to completely exit the position - considering that he has already sold more than half of his company's stake in the New York Times, I wouldn't be surprised.
Not including Harbinger, eight of the 77 funds that we track in our database held stakes in NYT at the end of Q4/2009. They were:
SAC Capital Advisors LP - 143,751 shares
Bogle Investment Management LP - 17,929 shares
Citadel Advisors LLC - 189,351 shares
Bridgewater Associates, Inc. - 427,778 shares
Adage Capital Partners GP LLC - 166,300 shares
Black River Asset Management LLC - 4,600 shares
Catapult Capital Management LLC - 2,246 shares
D.E. Shaw & Co., Inc. - 264,250 shares
NYT has been on a bit of a roll as of late, trading from less than $5 in the summer of 2009 to its current price of $12.29. However, over the past five years NYT has struggled mightily, succumbing to the overall weakness in the newspaper industry and trading from over $30 in 2005 to its current level.
Source:
Harbinger's Form 13D Filing for NYT
Source:
Davemanuel.com NYT Quote