Bill Clinton Charges Hundreds of Thousands For Each Speech
As evidenced from his recent appearance at the Democratic National Convention and from his eight years in the White House, former President Bill Clinton is pretty good at giving speeches.
Even those who dislike Bill Clinton will usually admit that he is very charismatic and engaging.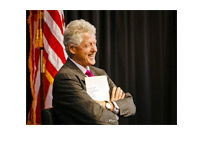 Anyways, Bill Clinton does very well for himself on the speech circuit. In addition to the $191,300 taxable pension that Clinton receives for
being a former US President
, as well as the royalties that he continues to receive for his books, "Bubba" also brings home millions of dollars per year by giving talks around the world.
How much money did he make in 2011? Let's look to his wife, Secretary of State Hillary Clinton, and her annual financial disclosure statement for the answer.
According to Hillary Clinton's filing that covers the 2011 calendar year, former President Bill Clinton gave 54 speeches last year.
Bill Clinton made a total of $13,434,000 for his 54 speeches, which works out to an average of $248,777.78 per speech.
Clinton gave speeches to a wide assortment of different entities, including Bank of America Merrill Lynch, the Kuwait America Foundation, the Center for Dialogue and Cooperation and Goldman Sachs.
Here is a list of the speeches that Clinton gave last year, as well as the amounts that he made:
Telefonaktiebolagel LM Ericsson AB, Hong Kong, China | $750,000
Leaders and Company Ltd. (THISDAY Newspaper Group), Lagos, Nigeria | $700,000
Achmea, Achlum, Holland | $600,000
Hualuo CEO Forum, Shanghai, China | $550,000
Abu Dhabi Global Environmental Data Initiative (AGEDI), Abu Dhabi, UAE | $500,000
Center for Global Dialogue and Cooperation (CGDC), Vienna, Austria | $500,000
Nideias Comunicacao Ilimitada Ltda, Manaus, Brazil | $390,000
Barclays Capital, Davos, Switzerland | $325,000
Magic Dreams Productions, Inc., Panama City, Panama | $325,000
Tanmiah Commercial Group, Riyadh, Saudi Arabia | $300,000
TD Bank, Fredericton and Antigonish, Canada | $260,000
The National Council for Community Behavioral Healthcare (NCCBH), San Diego, CA | $260,000
Beaumont Health Systems, Troy, MI | $260,000
Internet Corporation for Assigned Names and Numbers (ICANN), | $255,000
Whisky Productions, Grand Cayman | $225,000
Cisco Systems, Inc., Kiawah Island, SC | $210,000
Defense Research Institute (DRI), Washington, DC | $204,000
Starwood Hotels & Resorts Worldwide, Inc., New York, NY | $200,000
TD Ameritrade, Las Vegas, NV | $200,000
Wells Fargo Bank, N.A., New York, NY | $200,000
Silicon Valley Information Business Alliance (SVIBA),, Santa Clara, CA | $200,000
Deloitte Services LP, New York, NY | $200,000
Masie Center, Orlando, FL | $200,000
Hualuo CEO Forum, New York, NY | $200,000
HCL America, Inc., Orlando, FL | $200,000
Bank of America Merrill Lynch, | $200,000
American Society for Clinical Pathology (ASCP), Las Vegas, NV | $200,000
American Express, New York, NY | $200,000
Jeffries & Company, Inc., New York, NY | $200,000
Pharmaceutical Research and Manufacturers Association (PhRMA), Jersey City, NJ | $200,000
The Philharmonic Center for the Arts, | $200,000
Fundo Comunitario of Keren Hayesod Sao Paulo, Sao Paulo, Brazil | $200,000
Bank Administration Institute, Chicago, IL | $200,000
HSBC Securities (USA) Inc., Key Largo, FL | $200,000
Goldman Sachs, New York, NY | $200,000
Ilau BBA USA Securities, Inc., New York, NY | $175,000
Fidelity Investments, Orlando, FL | $175,000
Association for Financial Professionals (AFP), Boston, MA | $175,000
Cambridge Energy Research Associates | $175,000
City of Surrey, Surrey, BC, Canada | $175,000
Ontario Chamber of Commerce (OCOC), Toronto, Canada | $175,000
Highstar Capital, Washington, DC | $175,000
World 50, Inc., New York, NY | $175,000
Kuwait America Foundation, | $175,000
HSM Americas, Inc., New York, NY | $175,000
Bridgestone America Tire Operations, Huntington Beach, CA | $175,000
Highland Capital, New York, NY | $175,000
World Market Center SPE, LLC, Las Vegas, NV | $175,000
RSA, Security Division of EMC, San Francisco, CA | $175,000
Association of Fundraising Professionals (AFP), Chicago, IL | $170,000
UBS Wealth Management, Dallas, TX | $165,000
Yum! Restaurants International, Vancouver, Canada | $160,000
UBS Wealth Management, Los Angeles, CA | $150,000
Business and Finance Media Group, | $125,000
Source:
Hillary Clinton Net Worth