McGregor To Take Home $100+ Million If Fight Sells as Expected
When Conor McGregor steps into the boxing right on the evening of August 26th, he will collect the single biggest payday of his career.
In 2015, Floyd "Money" Mayweather and Manny Pacquiao set the gold standard for boxing PPVs after their fight notched a total of 4.4 million PPV buys. All totalled, the fight between Mayweather and Pacquiao ended up generating roughly $600 million in revenues, with the two fighters splitting (60/40 in Mayweather's favor) roughly $380 million.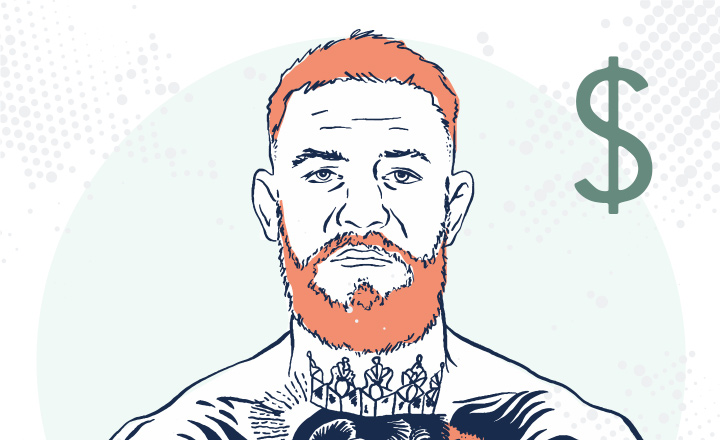 The fight between McGregor and Mayweather is going to be an absolute spectacle. While the contest may not be competitive in the end (after all, Mayweather is one of the greatest boxers to have ever lived), there is no doubt that it will likely sell upwards of 4 million PPV buys. In fact, many people think that it will end up topping the Mayweather/Pacquiao mark, due to McGregor's high degree of popularity across the globe.
-
The McGregor/Mayweather fight is expected to generate the following numbers:
-roughly $360-$400 million in PPV revenue
-over $70 million in venue ticket sales
-$20 million+ in closed-circuit revenues from bars and restaurants
-$7-$8 million in closed-circuit revenues in Las Vegas
-$15 million in sponsorship revenues
-$50 million+ in foreign TV rights
In addition, McGregor and Mayweather will be able to cash in on sponsorship revenues from companies that will be featured on their ring attire.
All told, the revenues for McGregor/Mayweather will likely near the $600 million mark when all is said and done.
-
There is no doubt that the Mayweather camp signed a favorable deal for his fight against McGregor. The Mayweather camp is notorious for being tough negotiators, and the fact that they agreed to a deal so quickly should lead you to believe that they got what they wanted right away.
McGregor himself has said that he will make in excess of $100 million if the fight outsells Pacquiao/Mayweather, which means that he is likely going to walk away with a 25% take of the revenues. Mayweather, on the other hand, should collect $250-$300 million.
McGregor is likely getting a guaranteed purse somewhere in the vicinity of $25-$30 million, plus a percentage of the revenue pie. McGregor could end up generating $125 million for his share of the revenues, though he likely will have to cough up something significant to the UFC, as he is under contract with their promotion.
-
McGregor and Mayweather are proving to be the perfect foils for each other, and this should translate to big money on the night of August 26th. The buzz for this fight is simply off the charts, largely thanks to a bizarre four-city promotional tour that concluded this past week.
At many points during the press conferences, Mayweather simply sat back and smiled as McGregor laid into him. Given the promotional ability of McGregor, you can't help but think that Mayweather was counting the money in his head.
-
Once all is said and done, I expect that McGregor will walk away with $100 million.