Can Netflix Continue Its Torrid Run in 2011?
Netflix (NFLX) was one of the biggest winners of 2010.
The stock, which traded at $55.09 per share to start 2010, ended the year at $175.70. Netflix was certainly one of the biggest success stories of 2010, and made its investors very, very happy. The Netflix model, which many people openly laughed at when the company was just starting out, has proved to be wildly successful.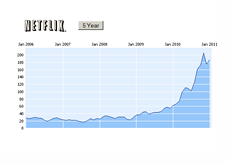 Anytime a multi-billion dollar company triples in value over the course of just one year, you are going to have critics coming out of the woodwork.
One of those critics is Whitney Tilson
, founder and managing partner of T2 Partners LLC.
Tilson released a 22 page document last year titled "Why We're Short Netflix" in which he eloquently laid out his reasons for his company being short NFLX. Tilson gave a number of reasons for his short position in the company, and argued that Netflix was currently priced to perfection. Tilson's public critique of NFLX prompted a response from Reed Hastings, who is the CEO of Netflix.
According to the NFLX profile on Yahoo.com
, there are currently over 11 million shares of NFLX short, which represents nearly 30% of the float.
--
I thought that it would be interesting to see what kind of support NFLX had from institutional investors - at least from the 97 institutional investors that we currently track in our database.
Of the 97 institutional investors that we track, only 18 reported owning positions in NFLX at the end of the third quarter. This is a fairly low number for such a visible company - Apple, for instance, had 47 of the 97 institutional investors that we track reporting long positions as of September 30th, 2010.
So, which of the institutional investors that we track reported owning positions in NFLX as of the end of the third quarter? Let's take a look:
1) AQR CAPITAL MANAGEMENT LLC (29,300 shares)
2) Black River Asset Management LLC (200 shares)
3) BLUE RIDGE CAPITAL HOLDINGS LLC/BLUE RIDGE CAPITAL (500,000 shares)
4) Calamos Advisors LLC (452,779 shares)
5) CITADEL ADVISORS LLC (10,993 shares)
6) COATUE MANAGEMENT LLC (215,000 shares)
7) D. E. Shaw & Co., INC. (4,320 shares)
8) DENALI ADVISORS LLC (25,400 shares)
9) DUQUESNE CAPITAL MANAGEMENT L L C (17,000 shares)
10) FMR LLC (5,016,103 shares)
11) GOLDMAN SACHS GROUP INC (218,064 shares)
12) JANUS CAPITAL MANAGEMENT LLC (182,700 shares)
13) MAZAMA CAPITAL MANAGEMENT INC (2,535 shares)
14) MILLENNIUM MANAGEMENT LLC (2,400 shares)
15) RENAISSANCE TECHNOLOGIES LLC (1,648,300 shares)
16) SAC Capital Advisors LP (5,689 shares)
17) Soros Fund Management LLC (25,000 shares)
18) TWO SIGMA INVESTMENTS LLC (84,564 shares)
There are some well-known institutional investors in there, but a number of them only own relatively small positions (compared to their other holdings) in NFLX. There are a couple of obvious exceptions (FMR LLC, Renaissance Technologies).
According to Yahoo!, 364 institutions are currently holding shares of NFLX. For comparison's sake, AAPL currently has 1,519 and GOOG has 1,213.
--
Given the move that NFLX made over the past 12 months, and given the fact that a number of companies are now openly gunning for Netflix, it will be interesting to see how the company performs going forward.
Source:
Davemanuel.com NFLX Page