Buying an Amazon Kindle Fire in Canada
Note:
The Kindle Fire is STILL not available in Canada, and probably won't be anytime soon. I wouldn't hold your breathe that it will be available to Canadian residents (at least, a fully functional Kindle Fire) anytime soon.
--
Remember when the Kindle was first released, and Canadians had to wait an extra long time until they were finally shipped to Canada?
Well, it appears as though Canadians will be in for another wait, as Amazon hasn't yet announced plans to ship to Canada.
I would imagine that the delay has to do with a number of different factors, including wanting to first successfully roll out the product to the United States, which is Amazon's top market. In addition, Amazon will likely have to work out agreements with the CRTC (Canadian Radio-television and Telecommunications Commission) before the product can ship to Canada.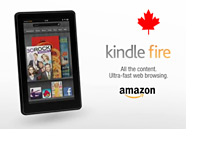 The Kindle Fire is a beautiful and well-designed device that is destined to be a game-changer. Amazon is so confident in the device that they are reportedly manufacturing four million just to ship within the United States alone.
The Kindle Fire, which is priced at $199, is a cheaper alternative to Apple's iPad.
The Fire, which is built on the Android operating system, is a lightweight device that has a color touch screen.
Users will be able to surf the web using Amazon's slick Silk browser.
On top of that, Canadian users will easily be able to access Amazon's streaming video and music product offerings. Amazon has been building out their streaming video product, and has quickly established itself as a strong competitor to companies such as Netflix.
And, as you would probably expect, the Kindle Fire also provides easy access to the company's many ebook, magazine and newspaper offerings.
Kindle Fire users also receive free access to a cloud-based storage device, which means that you will no longer have to move your items from your computer to your Kindle, etc.
I will certainly let everyone know when the Kindle Fire is slated to begin shipping to Canada.